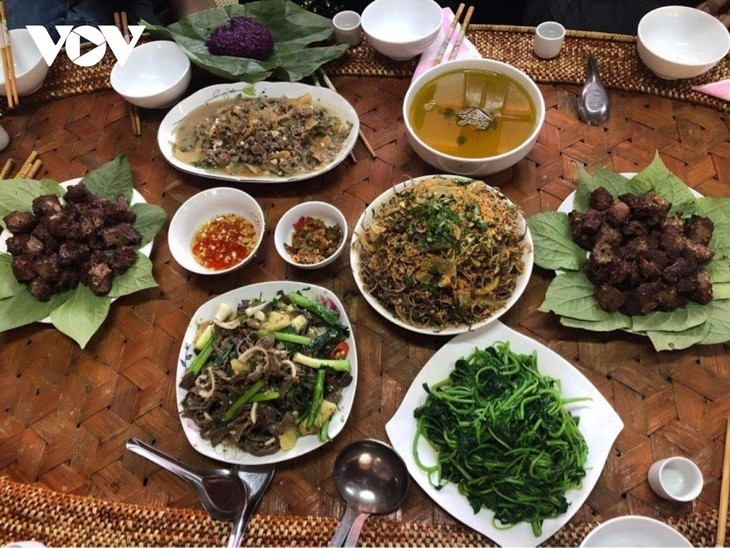 The Thai people of Son La province create many dishes from buffalo meat: grilled buffalo, buffalo salad, and buffalo bone soup with bauhinia flowers and wild vegetables. Buffalo meat hung over a wood fire – smoked buffalo meat – is one of the most popular dishes. It's easy to prepare but it's the combination of spices used that makes it special.
Quang Thi Hien of Ban La hamlet says, "We season buffalo slices with chili, ginger, garlic, salt, and mac khen – a special aromatic forest seed.  After being marinated, the meat slices are skewered on sticks and hung above a wood stove. Smoked buffalo meat has a special place in the culture of the Black Thai. It's an indispensable dish at New Year celebration meals." 
Minced lean buffalo meat – called lap – is served raw for men and well-done for women and children. Raw lap is a mixture of minced rump or round, thinly sliced buffalo skin, coriander, mac khen, chili, and sour bamboo shoot water. To prepare lap for women and children, they fry minced buffalo until it's well-done and then add sour bamboo shoot water, coriander, mac khen, and salt to bring out the full flavor.
Buffalo tail cooked with sour vón vén leaves makes a fresh soup. The buffalo tails are seared on charcoal stove, cut into smaller pieces, and stewed with vón vén leaves. The dish has the sour, fatty, and typical flavor of buffalo.
Normally, buffalo skin is used to make drums. But the Thai in Son La province make it into buffalo skin salad, which has a strange taste. Boiled buffalo skin is thinly sliced and mixed with aromatic herbs, chili, sliced banana flowers, sour bamboo shoot water, fried peanuts, and spices.
"To make sour buffalo skin salad, we sear the buffalo skin over a charcoal fire until it turns yellow," says Quang Thi Sinh of Ban La hamlet. "Then we cover it in hot ashes for about 30 minutes to make it soft. After that we clean it and slice it thinly. The spices are coriander, garlic, chili, basil, and sour bamboo shoot water. This is a delicious part of our New Year celebration meal."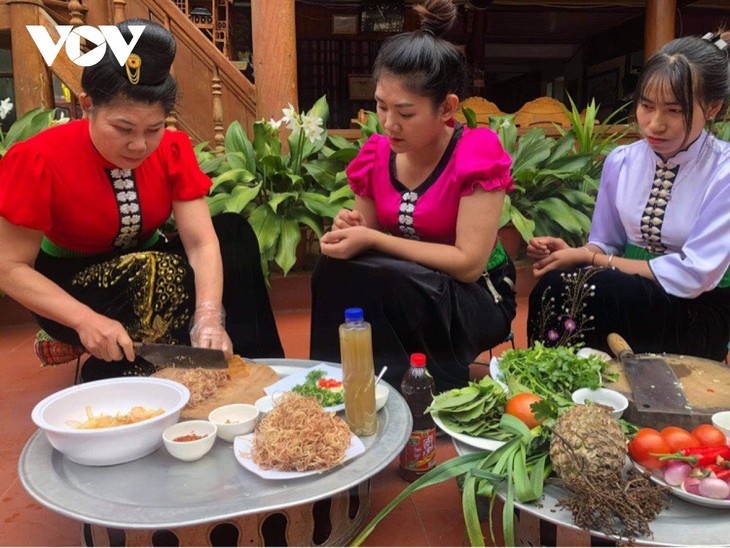 In the past buffalo dishes were prepared just for New Year celebrations, festivals, and big events. Today they are served by restaurants to visitors. Many households and make a good profit by selling smoked buffalo meat.
Luong Thi Huyen, who owns a smoked buffalo meat processing facility in Lau hamlet, says in the past, smoked buffalo meat was just for the family, but it is now very popular.
"During the New Year celebration, many people buy smoked buffalo meat to eat and to give to their relatives and friends," Huyen confides.
Sitting around a wood stove on a cold day and eating buffalo dishes is an unforgettable experience.
Tran My Linh, a tourist from Hanoi, says, "The food of the Thai in the northwestern region made a strong impression on we. Buffalo skin salad and smoked buffalo meat have a unique taste because they have many spices. The Thai often eat these dishes during their New Year celebration. I want to come to Son La again to eat these dishes."
Exploring the northwestern region is surely more interesting if you try the food of the local Thai people.