Vietnam Airlines promotes national image in US market
Friday, 17:53, 03/12/2021
VOV.VN - National flag carrier Vietnam Airlines has launched a short video aimed at popularizing the image of Vietnam, its land and people, as well as major attractive destinations on a giant LED screen outside the Thompson Reuters building at Times Square of New York City, the USA.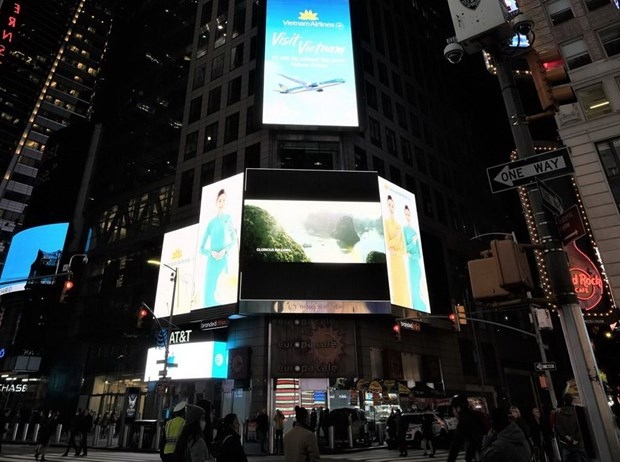 A host of famous local tourist attractions have been introduced, including the mysterious Son Doong cave, vibrant Ho Chi Minh City, the unique Golden Bridge in Da Nang, Ha Long Bay, boat rowing in Ninh Binh. In addition, Vietnam's culinary art has also bene indotruced, including Pho, a traditional noodle soup of Hanoi capital.
The screening of the clip captured great public attention at Times Square, elevating Vietnam as a peaceful country with a diverse range of nature and fascinating experiences on offer.
The video also unveiled regular non-stop flights between Vietnam and the US which have been launched by Vietnam Airlines since November 28. At present, Vietnam Airlines is the only Vietnamese airline operating such a route between the two countries.
By operating these regular direct flights, Vietnam Airlines expects to penetrate deep into the US market which has great potential for air transport development.
Currently, the airlines is operating two flights per week between Ho Chi Minh City and San Francisco. It plans to increase the number of flights to seven per week as soon as the COVID-19 pandemic is fully brought under control and the reopening of regular international air routes is once again permitted.
It also intends to launch additional routes connecting Los Angeles with Hanoi or Ho Chi Minh City.
Vietnam Airlines on November 4 received a permit from the US Federal Aviation Administration (FAA) in order to operate non-stop commercial flight services between Vietnam and the US.
This is widely considered a historic milestone in the Vietnamese aviation industry as it opens up bright prospects to ramp up economic and cultural exchanges between the two countries.