Red River Delta provinces move to promote agritourism
Wednesday, 13:45, 24/05/2023
Four provinces in the southern part of the Red River Delta, namely Ninh Binh, Ha Nam, Nam Dinh, and Thai Binh, have been taking steps to tap into their natural advantages to develop agricultural and rural tourism.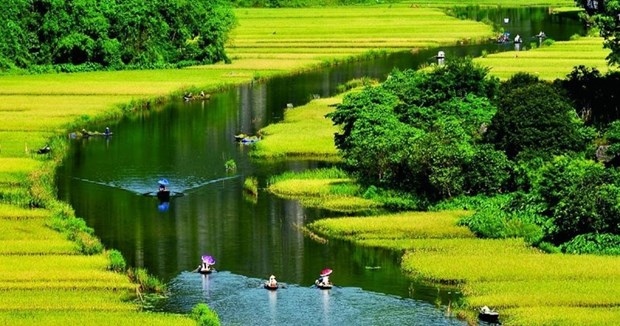 The Nhan dan (People) daily cited tourism experts and culture researchers as saying that the southern region of the Red River Delta boasts a large farmland area, mainly fertile alluvial soil, relatively developed intensive farming, and favourable climate conditions for not only agricultural development but also agricultural and rural tourism.

Over the past years, a number of domestic and international travellers have viewed agricultural and rural tourism as a novel experience worth to try, especially in the post-COVID period, when a trend of low-cost travel in rural places with pristine and beautiful landscapes has been rising.

Grasping that chance, these localities have specified strategies for developing agricultural and rural tourism.

Among them, Ha Nam aims to turn this type of tourism into one of its main tourism products by 2030.

Thai Binh has promptly approved a plan to promote agriculture and rural areas in tandem with tourism for 2022 - 2025, with a vision to 2030, under which the province will develop 80 - 85 farming zones, each with their own features; assign authorities to use nearly 5,000ha of mangrove forest and coastal wetland to protect the environment, prevent natural disasters, and create livelihoods for locals via agricultural tourism; and establish three - five agritourism cooperatives to maximise local potential and advantages.
Meanwhile, Ninh Binh has assisted residents to grow sunflower in Khanh Thien commune of Yen Khanh district on a trial basis, along with Japanese lotus varieties in Ninh Hai and Ninh Thang communes and grapes in Ninh Giang commune of Hoa Lu district. The move aims to create unique agritourism products to attract more visitors, thus helping raise the added value of farmland and people's income.

For its part, Nam Dinh targets that by 2025, agritourism destinations will be standardised, at least two agritourism sites and 50% of the establishments providing rural tourism services recognised, 70% of the owners of agritourism sites given training in tourism management, and 80% of agritourism workers trained in tourism skills. The province also plans to pilot some agritourism models connected with agricultural value chains, the "One Commune, One Product" (OCOP) programme, and digital transformation.

Ngo Manh Ngoc, Deputy Director of the Ha Nam Department of Agriculture and Rural Development, said localities in the region should step up training in agricultural tourism for local residents, build pilot agritourism models to encourage people to preserve rural landscapes and the wet rice culture's identity, and create typical agritourism products.

Recommending centres be set up to introduce unique agritourism products to travellers, Dinh Vinh Thuy, Director of the Thai Binh Department of Agriculture and Rural Development, pointed out the necessity to increase communications to popularise images of local agriculture, rural areas, and farm produce, which will help to not only fuel agritourism, improve people's life quality, but also accelerate the new-style countryside building in the south of the Red River Delta.