Red River Delta named among top 52 Places for a Changed World
Wednesday, 12:58, 12/01/2022
VOV.VN - The Vietnamese Red River Delta has been named among the list of the top 52 Places for a Changed World in 2022, as selected by the New York Times of the United States.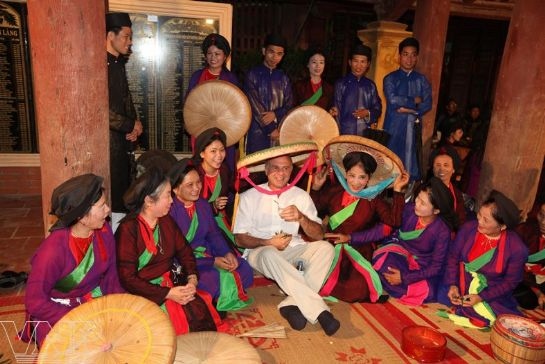 The New York Times said its annual list of destinations to visit this year focuses on spots where visitors can be part of the solution to problems such as over-tourism and climate change.
According to the US media outlet, travelers will undoubtedly flock to the country's world-famous beaches and dynamic megacities once travel begins to normalise again.
"But head north to the traditional villages of the Red River Delta, and you can immerse yourself in centuries-old cultural practices and a way of life that is at risk of disappearing," says the newspaper.
Charly Wilder, editor of the New York Times, noted in the article that since ancient times, villagers along the Cau river in northern Vietnam have sung Quan Ho, a call-and-response folk music style performed by alternating all-female and all-male duets. They typically come from neighbouring villages, with this being recognised as part of UNESCO Intangible Cultural Heritage in 2009.
"In the decade since, 49 ancient villages in Bac Ninh and Bac Giang provinces have taken measures to safeguard the cultural heritage of Quan Họ, which includes countless rituals celebrating culinary traditions and to address rural-urban migration through cultural tourism," he added.
Wilder went on to reveal that several Hanoi-based tour operators, such as Vietnamstay and Khoa Viet Travel, have offered guests the chance to explore the villages' Buddhist temples, craft communes, Ly Dynasty pagodas, and waterways while also helping to preserve the past.
Other destinations to make the New York Times' list include Chioggia of Italy, Chimanimani National Park of Mozambique, Queens of New York, Northumberland of the UK, Zihuatanejo of Mexico, Ibera Park of Argentina, and the Alentejo Wine Region of Portugal. This is in addition to the Lucayan Archipelago of the Bahamas, Turk & Caicos, Evia of Greece, Cobscook Shores of Maine, Hoonah of Alaska, Cleveland of Ohio, and Courmayeur of Italy.