Con Son-Kiep Bac: Land of Vietnam's revered figures
Sunday, 19:05, 06/03/2022
VOV.VN - The Con Son-Kiep Bac special national relic, which stretches over 8,000 hectares in eight communes in Hai Duong province, honors a page of Vietnam's history.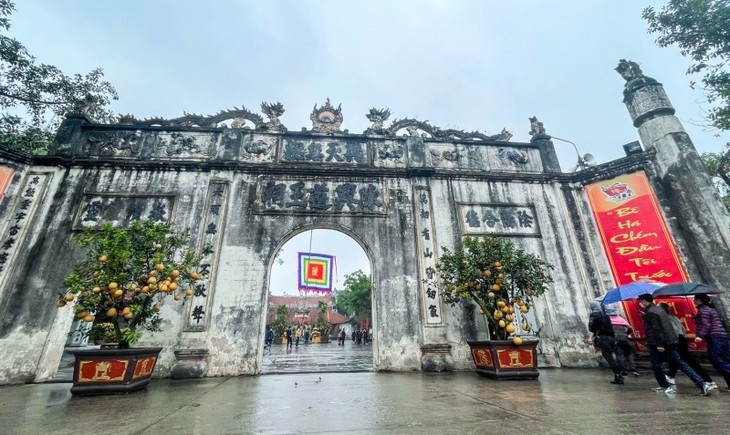 The area is entwined with the life and career of the great military commander Tran Hung Dao and Nguyen Trai, the Great Man of Culture.
Van Kiep harbor and Luc Dau river were the site of three superb victories by Vietnamese armies commanded by General Tran Hung Dao over Mongol invaders in the 13th century.
"After his first triumph in 1258, General Tran Hung Dao built a military base at Kiep Bac, where he thought foreign troops would gather and prepare to attack Thang Long, the capital city," said Historian Tang Ba Hoang.
"Kiep Bac, located at the junction of six rivers, was a gateway to Thang Long, the delta, and the sea, which meant it was a strategic location for either advance or retreat. It was a single night's journey by boat from Kiep Bac to Thang Long. During the second and third Vietnam-Mongol wars, Kiep Bac was a key battle field, where Vietnamese troops fought tenaciously and won".
Tran Hung Dao died in 1300. He was awarded numerous titles of honor and respected by Vietnamese people as a saint for the enormous contributions he made.
Con Son, the other part of the Con Son-Kiep Bac special national relic, was a center of the Truc Lam Zen Buddhist sect founded by King Tran Nhan Tong in the 13th century. King Tran Nhan Tong and his two successors were called the three patriarchs of Truc Lam Zen Buddhism. The last successor Huyen Quang managed the Con Son pagoda until his final breath.
Nguyen Van Cuong, deputy chief of the management board at the Con Son-Kiep Bac special national relic, said Con Son pagoda safeguards 16 steles made during the Tran Due Tong reign in the late 14th century. They were recognized as national treasures in 2015.
"There are also 12 steles erected during the Le dynasty in the 17th-18th century and the Nguyen dynasty, the last Vietnamese dynasty," said Cuong. "They embody the great cultural values of Con Son, which often hosted pilgrimages by kings and national worshiping ceremonies to pray for peace, wealth, and prosperity".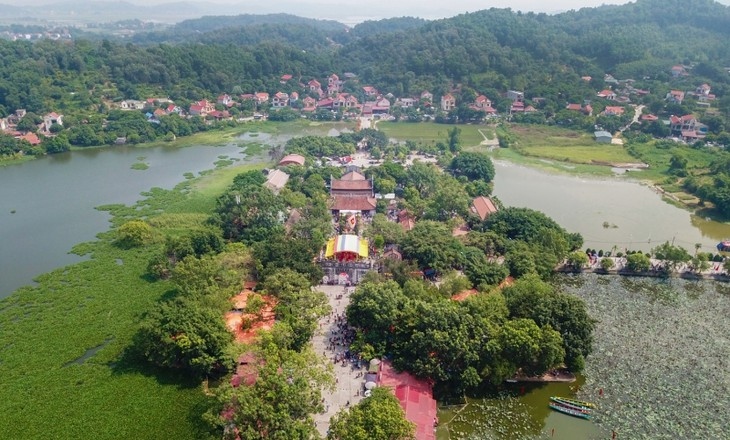 The Con Son-Kiep Bac national relic has many historical and spiritual points of interest, including a pagoda that honors Nguyen Trai, one of Vietnam's most prolific poets and writers, who chose to live at Con Son after abandoning his political career as a result of a false conviction. His writings vividly showcased his patriotism and genius.
Hai Duong, Quang Ninh, and Bac Giang province are working on a dossier to seek UNESCO recognition of the Con Son-Kiep Bac national relic as a world cultural heritage.
Trieu The Hung, Chairman of the Hai Duong provincial People's Committee, said, "This dossier seeks the recognition of a combination of the Yen Tu complex and the Con Son-Kiep Bac relic site, which embodies the culture of the Tran dynasty and King Tran Nhan Tong's Buddhist ideology."
The Con Son-Kiep Bac historical relic hosts two annual festivals, one held in the spring to commemorate the death anniversary of Truc Lam Zen Buddhism patriarchs and the other held in autumn to commemorate Nguyen Trai and Tran Hung Dao.