Phu Quoc attracts 66,991 visitors throughout Tet holiday
Saturday, 17:15, 05/02/2022
VOV.VN - Phu Quoc island city in Kien Giang province received 66,991 visitors, including 2,668 foreign tourists, throughout the Lunar New Year (Tet) festival between January 29 and February 4.
Most notably the fourth day of the Lunar New Year saw the number of domestic arrivals to Phu Quoc reach 18,382, marking an increase of 4979 arrivals compared to the third day of Tet.
Furthermore, the period between January 27 and January 31 saw Phu Quoc welcome over 40 flights per day, with an increase in the number of between 60 and 62 flights per day from February 1 to February 3, and from 52 to 56 flights each day from February 4 to February 6.
The sudden rise in the number of tourists can largely be attributed to advantages in terms of the warm sunny weather coupled with attractive entertainment sites such as Sun World Hon Thom Nature Park, Aquatopia Water Park, Safari, VinWonders Theme Park, Coral Park, the Protected Area marine reserve, and Grandworld Pedestrian Street.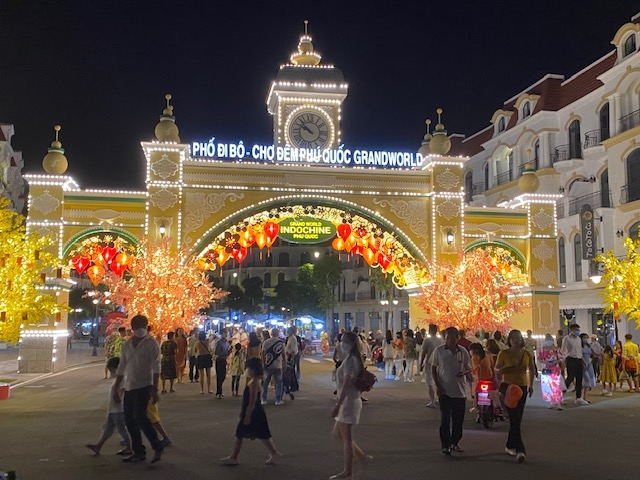 Several travel firms note that Phu Quoc tours have become something of a "magnet" for visitors during Tet thanks to wonderful array of natural scenery on offer. Other areas which prove popular on the island includes its beautiful beaches, diverse cuisine, a wide range of high-end hotel and resort systems, and Hon Thom cable car which is the world's longest sea cable car route.
Huynh Quang Hung, chairman of the Phu Quoc City People's Committee, revealed that all residents in the city have now been fully vaccinated, with the third jab being deployed, adding that thorough preparations have been made in order to welcome both domestic and international tourists.
Along with an array of competitive advantages in terms of climate, natural landscape, and increasingly modern synchronous tourism infrastructure, the city has emerged as an attractive destination thanks to the implementation of incentive policies for foreign investors.
This has been done through the use of the "vaccine passport" mechanism which has proved to be effective amid ongoing COVID-19 challenges, said Lam Thi Diem Tram, director of Phu Quoc Island Tourism and Events Co., Ltd.
Tram emphasised that Phu Quoc is set to surpass other destinations such as Nha Trang, Da Nang, Nha Trang, and Sa Pa in becoming a booming international hotspot in the year ahead.