Kh'Leang pagoda, a national architectural heritage in Soc Trang
Sunday, 17:40, 02/07/2023
VOV.VN - Kh'Leang pagoda, in Ton Duc Thang street, Soc Trang city, is one of the oldest Khmer pagodas in the Mekong Delta.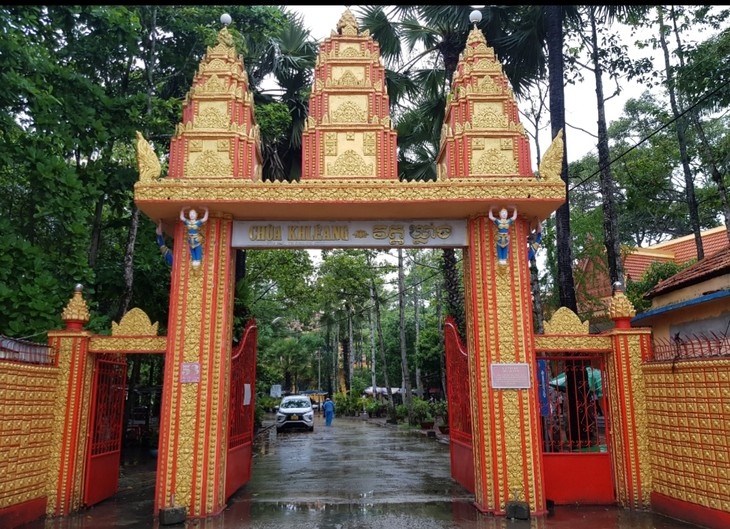 Like Doi pagoda, the 500-year-old Kh'Leang pagoda has been recognized as a national heritage of architectural art.
Compared to other Khmer pagodas in Soc Trang province, Kh'Leang is still intact with very little renovation. It stands in a large garden surrounded by a variety of plants and palm and plumeria trees. Kh'Leang pagoda houses the Southern Pali Secondary School.
Monk Sang No, abbot of Kh'Leang pagoda and Head of the Executive Board of Soc Trang province's Vietnam Buddhist Sangha, said, "The pagoda's total area is about 3 ha. The Pali Secondary School covers about 1 ha. The original pagoda was built in 1532 with a thatched roof. Then it was rebuilt more spaciously with bricks and tiles. Kh'Leang in Khmer means rice storage. It features typical Khmer architecture."
The pagoda has a main hall, the monks' house, a meeting hall, and houses to receive guests and organize ceremonies. A unique feature is that most of the structures at Kh'Leang pagoda were built as traditional Khmer stilt houses. Each one is meticulously sculpted and carved with beautiful patterns.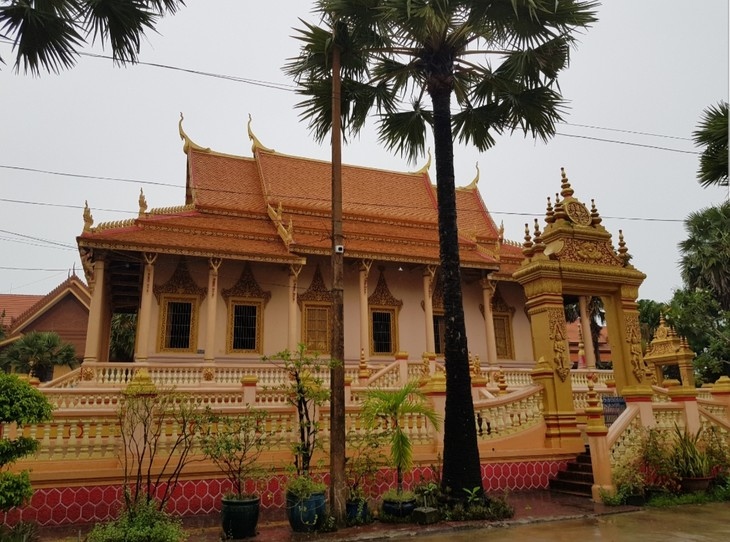 The main hall at the center of the pagoda has a three-step floor. The roof's edges are decorated with dragon statues. Along the corridor surrounding the main hall are pillars engraved with statues of Krud with open arms to bear the roof.
Krud is a mythical creature that appears quite regularly in Khmer legends and religious buildings. The Krud mascot has been closely associated with life of the Khmer for a long time.
Inside the main hall, there are wooden columns with gold-inlay images of the life of Buddha Shakyamuni and his teachings. A Buddha statue sits on a splendid lotus with a halo of electric lights.
Tran Ron, a member of the pagoda's Executive Board, said, "The main hall has beautiful and unique interior decorations. The roof is engraved with many dragons and deities to guard the Buddha. In the main hall there is an altar to Buddha Shakyamuni. The main hall and the sala house are open to followers to worship and organize charity activities."
In Kh'Leang pagoda, some cultural features of the Vietnamese and Chinese are seen on the curtains and pillars, such as images of carps and dragons, and Chinese words. These details show a cultural and artistic influence from past centuries.
In the past Kh'Leang pagoda hold sutra books written in ancient Khmer characters on pages made of leaves. These precious artifacts are now kept at the exhibition house of Khmer ethnic culture in Soc Trang province.
Thach Thi Loan, a tour guide at the exhibition center, said, "The Khmer wrote on palmyra palm leaves and corypha lecomtei leaves. They cut the leaves into pieces, soaked them in water, and pressed them dry to resist termites. The sutras written on corypha lecomtei leaves are about 500 years old. There are book collections on different topics, such as pedagogy, Buddhism, medical treatment and medicinal herbs, and culture."
Like other Khmer temples in the South, the monks of Kh'Leang pagoda teach children during their summer vacation. They teach the Khmer language, dignity, life philosophy, filial piety, and behavior.
Huynh Sa Wath, a member of Kh'Leang pagoda's Executive Board, shared, "The children learn the Khmer language in grades 1 to 5. Their parents send them to the pagoda to study free of charge in the summer. We have three classes of 30 children."
Kh'Leang pagoda is a popular destination. Nguyen Van Thuong, a tourist from Bac Giang province, said, "This is the first time I've been here. Kh'Leang pagoda features the unique Khmer culture. It's spacious and beautiful. If I get another chance to visit Soc Trang, I'll come back here."
Kh'Leang often hosts traditional Khmer festivals such as the Chol Chnam Thmay New Year ceremony, Sen Dolta ancestor worship, and Ok Om Bok Moon worship.