Hanoi plans to full reopen tourism activities this year
Friday, 18:32, 11/02/2022
VOV.VN - The capital plans to gradually restore its tourism industry as the country moves towards the reopening of all tourism activities this year.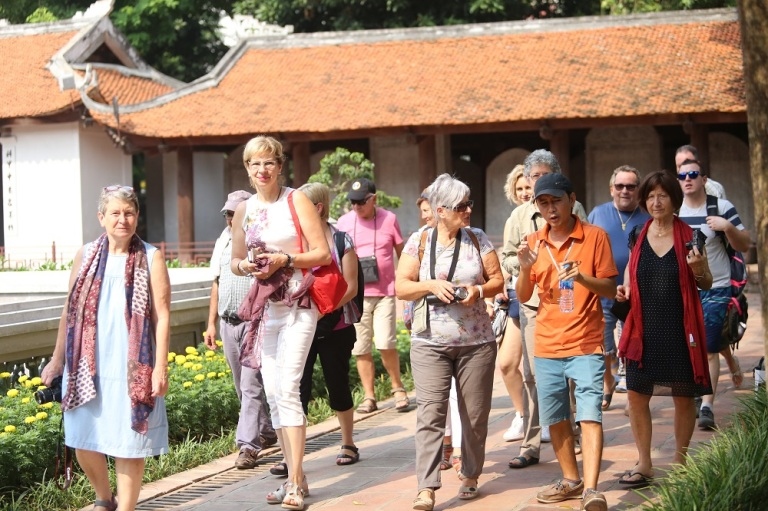 According to the Hanoi People's Committee, the scenario and roadmap for reopening and recovering the capital's tourism is to be implemented in two phases.
In the first phase during the first and second quarters of the year, Hanoi will hold activities to welcome tourists in provinces and cities across the country, as well as preparing all resources and conditions to serve international tourists as soon as being permitted by the Government.
All tourism activities will therefore be launched based on set regulations on the various pandemic risk levels of the city.
The second phase, which will run from the third quarter, with all tourism activities and products in the city are expected to be restored without limiting types, scale, or their scope, whilst offering both safe and flexible adaptation to the COVID-19 pandemic.
Hanoi is set to welcome international tourists, with a primary focus on key tourism markets which boast a high vaccine coverage.
The tourism sector will priotize improving the quality of cultural and heritage destinations, craft and ancient villages to enhance their competitiveness, and speeding up the building of night-time food streets. This is in addition to pedestrian streets, piloting several models of rural and agricultural tourism development in a number of potential districts.
Additionally relevant agencies were also asked to create attractive and specialized tourism products and services aimed at creating fresh experiences which meet the needs and tastes of holidaymakers moving into the new normal.
Given the high risk of possible COVID-19 outbreaks, meeting all relevant pandemic prevention and control requirements and ensuring safety for visitors and the community remains the top priority.
With this roadmap in place, Hanoi will strive to welcome up to 10 million tourists this year, including up to two million foreign travelers. In line with this, total revenue from tourists is anticipated to reach between VND27.84 trillion and 35.84 trillion.
By 2023, the country aims to welcome between 12 million and 14 million tourists, including 2.5 million and 3.5 million foreigners to achieve a total tourism revenue of approximately VND42.78 trillion to VND55.78 trillion.