Hanoi eyes 15 million domestic holiday-makers in 2021
Thursday, 18:53, 08/07/2021
Hanoi is striving for over 15 million domestic tourists in 2021, equal to 70% of that in 2019 and but two times higher than that in 2020, according to the municipal Department of Tourism.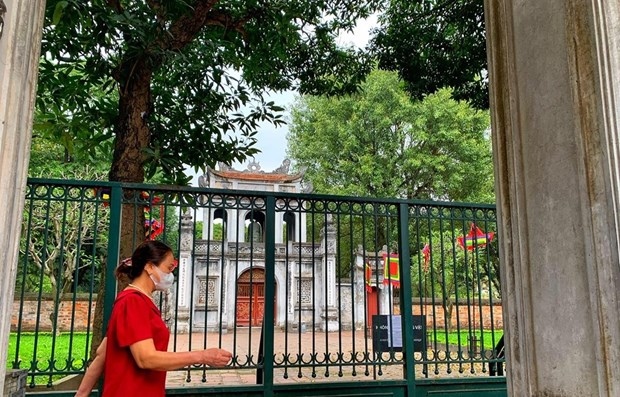 In the first half of 2021, the number of tourists to Hanoi is estimated at 2.9 million, down 25% year-on-year.

The city earned only VND8.1 trillion (US$352.6 million) from tourism services, a year-on-year decrease of 57%.

The start of the fourth coronavirus wave coincided with the National Reunification Day (April 30) and May Day holidays, which has severely impacted the tourism sector.

About 90% of customers cancelled their booked tours slated for May and early June while programmes stimulating travel demand in summer, expected to be the "golden season" for tourism businesses, have yet to begin due to the complex COVID-19 situation in many provinces and cities.

The number of foreigners coming to Hanoi during this time is modest, mainly experts and workers staying in Vietnam.

Therefore, the capital city's tourism industry has actively restructured new tourism products with a view to better serving domestic tourists, such as a night tour to decipher Thang Long Imperial Citadel – a UNESCO-recognised world cultural heritage site, a folk experience tour to the Museum of Ethnology, or a night tour to the Hoa Lo prison relic site.

The city is designing and making a system of tourist signs, logos for trade villages and souvenirs related to its tourism. It is also working on a set of criteria to evaluate high-quality tourist spots and tourist areas for 2021-2025, and has a plan to upgrade the quality of tourism products and tourist destinations in association with relic sites and craft villages in Hanoi also for the period to 2025.

Recently, the municipal Tourism Department has begun to implement a tourism programme in connection with the B52 Victory Museum. Developing cuisine in line with tourism activities is also a focus of work of the department.

Regarding tourism promotion and advertisement, the municipal tourism industry has advised municipal authorities to issue a plan to popularise and promote the capital's tourist destinations in 2021, while coordinating with the Vietnam Television and the Hanoi Television to make and broadcast reportage and documentaries popularising the image of Hanoi's tourism and culture, and at the same time promoting its tourism image on LED screens at Noi Bai International Airport, Hoan Kiem Lake and Ly Thai To Monument.

Regarding the cooperation programme with US-based TV channel CNN in 2021, the department is negotiating on terms of the cooperation, to advise the municipal People's Committee to sign an additional annex to the Memorandum of Understanding for cooperation during 2019-2024 and in 2021. It has also coordinated with CNN to select products suitable to the communication strategy as well as major events of Vietnam and Hanoi this year.

The municipal tourism sector has designed three growth scenarios for the sector in 2021. In the best scenario, an early recovery will allow Hanoi to welcome 15.34 million domestic visitors, double the figure in 2020, and equal to 70% of the figure in 2019 before the pandemic. An early recovery would mean the normal operation of services and accommodation facilities, with average occupancy exceeding 45%.   

The sector has also set an overall target of catering to between 13.16 and 19.4 million tourists, including 10.96-15.34 million domestic visitors, for this year.

The capital city attracted some 8.65 million holidaymakers in 2020, equivalent to 30% as compared with 2019, of whom foreign arrivals were estimated at 1.11 million, equivalent to 15.8% from last year.