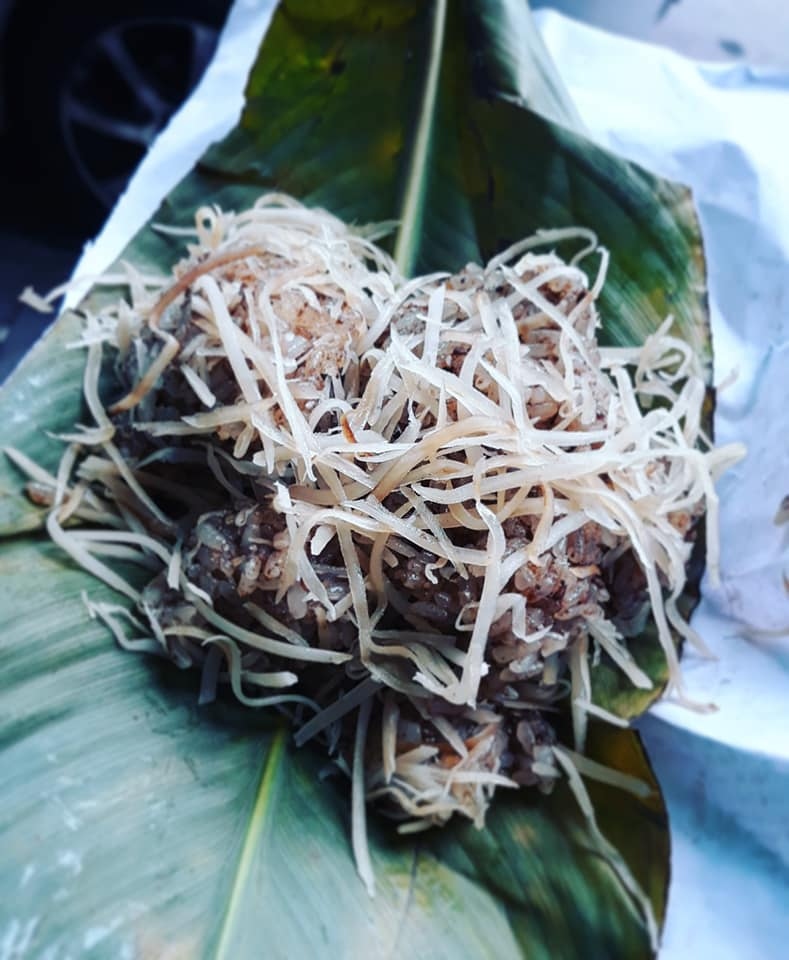 Thousands of years ago, Vietnamese people did not use plain rice to cook their daily meals, but glutinous rice which is used nowadays to make sticky rice dishes. In fact, glutinous rice was the first grain that the ancient Tay – Thai and Mon-Khmer – ancestors of the Vietnamese and Kinh people today – produced. Hence, sticky rice was almost the main dish of the Vietnamese in the ancient time.
Nowadays, although sticky rice is no longer the staple food in every meal, it remains one of the most well-beloved foods for people regardless of age and can be found almost everywhere, from the fanciest restaurants to the humble street vendors. It is a must-have on the menu for special occasions and ceremonies. It is also a quick, filling breakfast that people tend to go for before school or work.
Sticky rice is so loved that it has become a popular literary theme. Thach Lam, one of the most influential Vietnamese novelists in Vietnam, dedicated words of affection to sticky rice in his famous book Hanoi 36 Old Streets (Hà Nội 36 Phố Phường). He wrote: "Mung bean-coated sticky rice, peanut sticky rice, sesame and coconut sticky rice. A few handfuls of sesame sticky rice, oh-so-scrumptious on the palate, but barely cost anything!" (Xôi đậu, xôi lạc, xôi vừng mỡ và dừa. Ồ, cái xôi vừng mỡ, nắm từng nắm con, ăn vừa ngậy vừa bùi. Mà có gì đắt đâu!).
You'll also be surprised at how vast the world of sticky rice is. Even the Vietnamese don't actually know how many variations of sticky rice there are, since each region has its own different strains that are cooked with the signature local ingredients.
In Hanoi, you'll find various kinds of sticky rice, from sweet to savory. If you are craving for something simple but still filling, sticky rice with ground sesame and peanuts (xôi vừng lạc), corn sticky rice (xôi ngô), or sticky rice with mung beans and some crispy shallots (xôi xéo) are the way to go. For a complete lunch and dinner, try sticky rice with toppings such as braised pork, liver pate, fried eggs, or chicken. Have a sweet tooth? Consider trying some sticky rice with che (xôi chè),
Sticky rice is a delightful treat that once in Hanoi you will definitely have to try.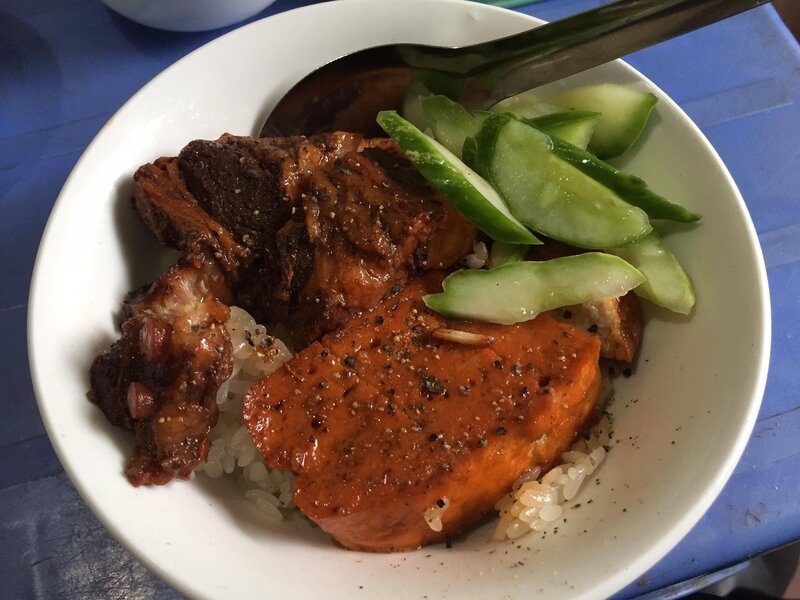 Xoi Ba Cu
Having been opened for roughly 40 years, this shop has earned a loyal following. Many customers are even willing to travel for miles to just have a bowl of sticky rice, and that says something. Besides the soft sticky rice, the highlight of this store is the rich and tender braised pork that literally melts in your mouth. Many people can't have enough of it and even order some extras. Do give it a try when you come here!
There are also other toppings that you can go for, including liver pate, sweet sausages, and fried eggs. Especially, the fried eggs have absorbed all of the braised pork juice and turn out to be lip-smackingly delicious. So just order a bowl of sticky rice with your favorite toppings, get a side dish of pickled cucumbers to help cut through the fat, and you'll get a fulfilling meal.
Address: 146 Quan Thanh, Ba Dinh District              
Price: VND25,000 (US1.1)
Operation hours: 6:30 am – 9 am
Xoi May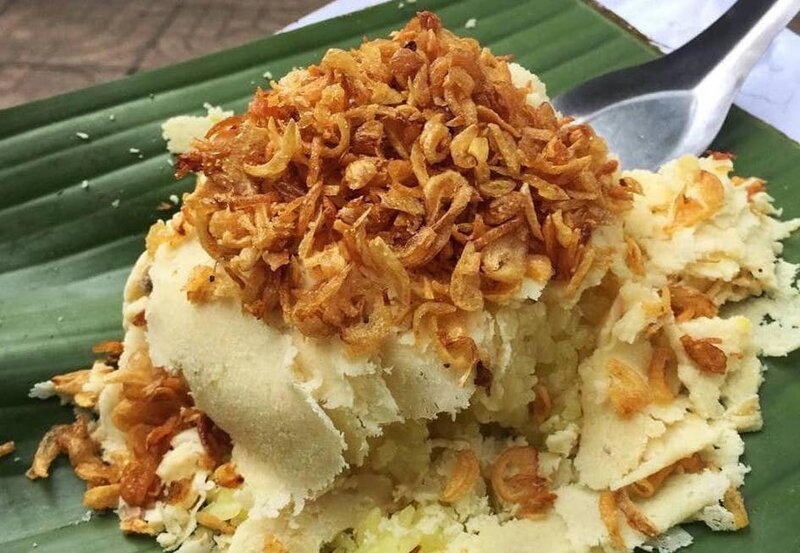 The sticky rice here is indeed the holy-grail for many foodies. There are three types of sticky rice sold here: mung bean sticky rice, peanut sticky rice, and corn sticky rice. You can also order extra shredded pork or sausages, or half-and-half sticky rice to try different kinds at once.
However, for many people, the most well-loved item is perhaps the sticky rice coated with mung beans, or xôi xéo. The sticky rice with a yellow color derived naturally from turmeric powder is kept warm inside a bamboo basket. Only when ordered, the seller scoops some out of the basket and quickly slides on top some mung beans. The dish is not complete without some crunchy deep-fried shallots on top and a dash of liquid fat.
The street eatery is always crowded and there are only a few tables and stoos, so you might end up eating while standing. Most people prefer takeout.
Address: 15 Vong Duc, Hoan Kiem District
Price: VND10,000 – 20,000 (US$0.4-0.8)
Operation hours: 6 am – 9 am
Che & Banh Troi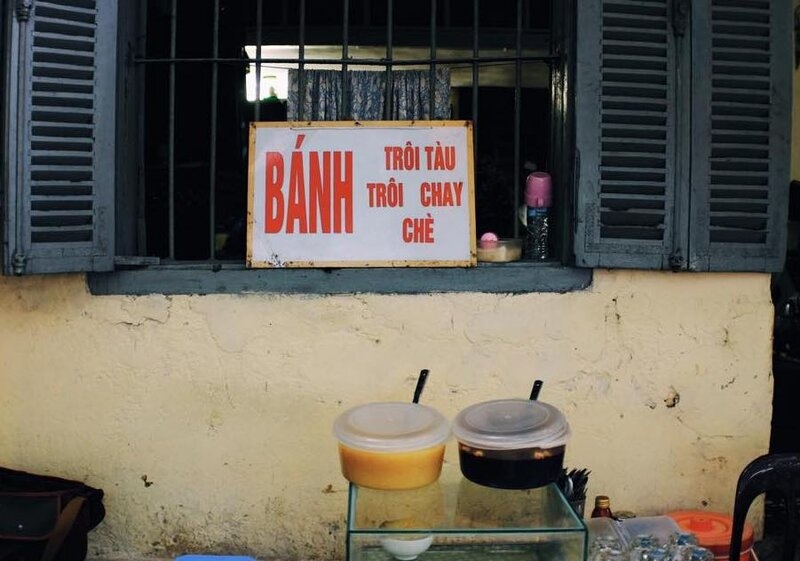 In the bustling and busy old town, there is the peaceful and quiet Chan Cam street that still retains many old food shops in business for years. This small dessert shop is located right at the beginning of Chan Cam street and has a vintage, nostalgic vibe that will bring you back to the charming Hanoi of the old time.
It only sells simple, traditional desserts such as sweet lotus seed gruel (chè hạt sen), rice ball sweet soup (chè xôi nước), black bean sweet soup (chè đậu đen), and sticky rice sweet (xôi chè).
The sticky rice sweet soup here boasts a scrumptious combination between savory and sweet that can both satisfy your stomach and also your sweet tooth. The sticky rice is lightly rubbed with mung beans and then poured on top of the sweet and fragrant sweet syrup.
Address: 9 Chan Cam, Hoan Kiem District
Price: VND15,000 (US$0.6)
Operation hours: 7 am – 10 pm
Xoi Co Son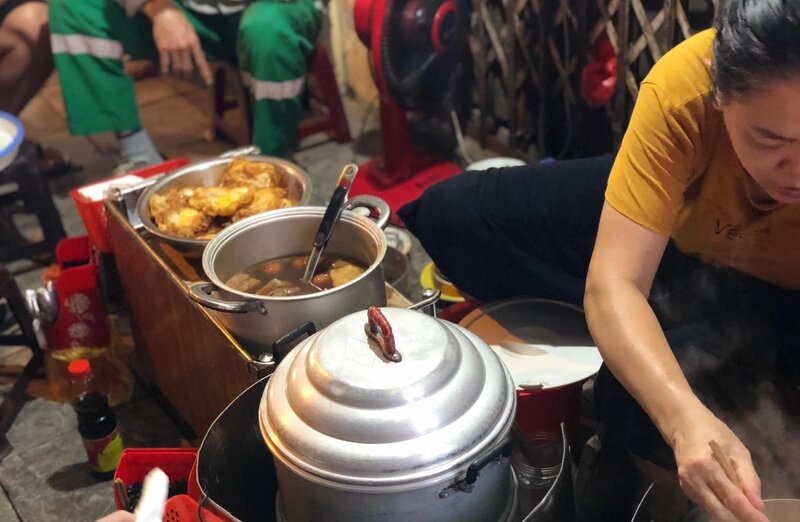 There are some foods that just take you straight back to your childhood, and the sticky rice from Xoi Co Son is one of that. There is nothing about the seating – just some simple plastic stools and tables. But the savory sticky rice here is to die for. The sticky rice itself is soft and fragrant, while the toppings are indeed flavorful. The braised pork is rich and has just the perfect ratio of fat and meat. The sausages and eggs are deep-fried and then braised together with the pork for a rich, decadent flavor. There are also traditional toppings such as sweet sausages and salted shredded meat.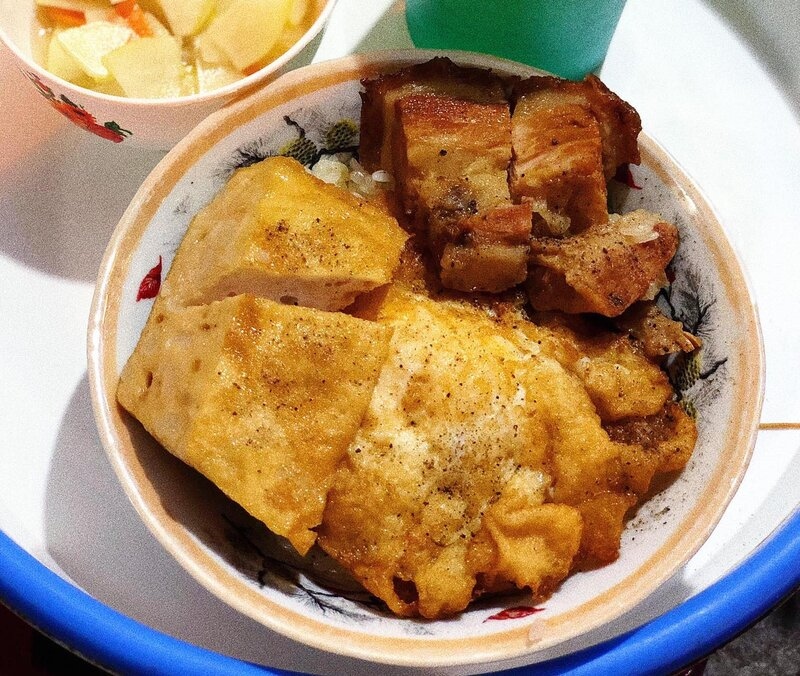 The shop is always crowded, so you might have to wait for a while. But trust me, the sticky rice here is truly worth your time.
Address: 44 Cau Go, Hoan Kiem District
Price: VND15,000 – 30,000 (US$0.6-1.28)
Operation hours: 9:15 pm – 11:30 pm