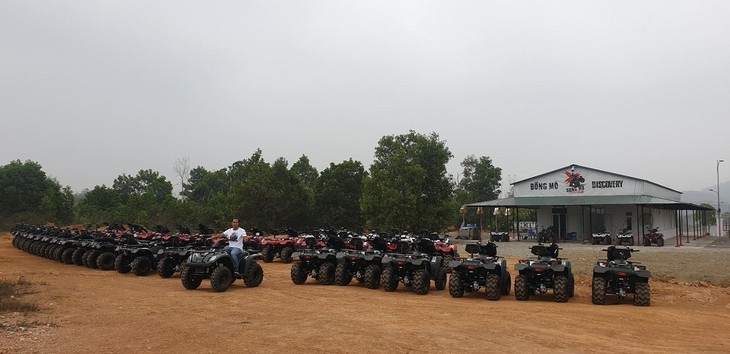 A fleet of 50 ATVs are now available at Dong Mo Discovery, part of the Dong Mo tourism complex on the outskirts of Hanoi.
A 300 cubic centimeters ATV has four gears: L - uphill, H - level road, N - zero, and R - reverse. The shock absorbers work independently. Each front wheel has a shock absorber while the two rear wheels share one. The throttle unit is controlled by a button on the right handlebar, which helps to avoid sudden acceleration, thus increasing safety.
When renting an ATV, each customer is taught how to operate the vehicle safely.
Nguyen Hung Thuat of Hanoi shared, "I feel like I'm in my own world when I drive an ATV. The roar of the engine excites me a lot. Whenever I make a turn, the wheel spins against the ground, and the friction flings dusts onto the air as if I were in a professional off-road race."
The 30-kilometer road through the Dong Mo Discovery terrain crosses a stunning landscape of forests, fields, and lakes. The drivers' adrenaline is stimulated by each new challenge.
Nguyen Anh Tuan, ATV service manager at Dong Mo Discovery, said, "The road has three segments. The first segment is named Roman. The landscape is as romantic as its name suggests. This segment through the forests is pretty easy. It's suitable for beginners. The next segment is Advane, which is a bit more challenging, with steep bends and slopes, so it requires drivers to have a little experience. The last segment, the most arduous, is for experienced off-road drivers."
It takes drivers about an hour to complete each segment. If you're hesitant to tackle the toughest terrains, there's plenty of room to drive around the obstacles.
Thuong Ngan, who has come to Dong Mo Discovery for the first time, noted, "I struggled at first but it's ok now. On the even ground, I was put at ease enjoying the landscape. But, I got scared just looking at the steep slopes and muddy fields. Once you get into the game, you become addicted to it. I put my heart and soul into the driving. It was really great."
Drivers end their journey at a lake in the middle of a big field, a great spot for camping, fishing, and chilling with music.
Manager Tuan said, "In the summer it's several degrees cooler than elsewhere. We will grow lotus on this lake and set up tents with floors, tree houses, and playgrounds for kids. We will also offer a boat service and amazing water games imported from Canada that can't be found anywhere else in Vietnam."     
Dong Mo Discovery is a wonderful place for families, couples, and team building events.