Bien Ho, a freshwater lake 800 meters above sea level
Sunday, 19:35, 09/05/2021
VOV.VN - Bien Ho (Sea Lake) is a famous spiritual and eco-tourism site in Pleiku city, Gia Lai province, in Vietnam's Central Highlands.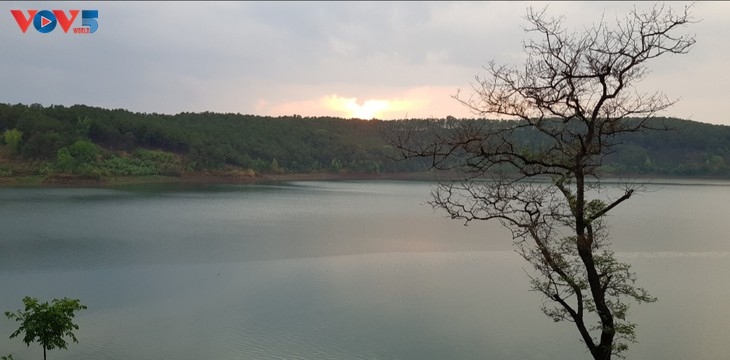 The lake, sometimes called the lungs of Pleiku, is a major source of freshwater for people living on the Pleiku Plateau.
Sea Lake is a natural freshwater lake located seven kilometres northwest of Pleiku city center and 800 meters above sea level. It actually encompasses two connected lakes in the middle of a pine forest.
A strip of land that juts into the middle of Sea Lake enables visitors to scan its scenic beauty. A Bodhisattva (Goddess of Mercy) statue was erected on this strip three years ago, adding a spiritual dimension to the site.
Nguyen Xuan Anh, the statue's caretaker, said, "The 15-meter-high statue was carved out of a single stone block transported from Ninh Binh province. Behind the statue are five stone pillars representing the five major elements of the material world: Metal, Wood, Water, Fire, and Earth.
Sea Lake is the oval-shaped crater of a volcano that went inactive millions of years ago. Its lava is deposited at the bottom of the lake, which measures 40 meters at its deepest point. The 340-hectare lake provided inspiration to the famous song writer Nguyen Cuong, who called it the eye of Pleiku city."
Sea Lake's name was suggested by the high tides that occur in the lake in the rainy season. Sea Lake is associated with myths of the Jrai ethnic people, who call the lake Ia Nueng or T'Nung. In Jrai legends, T'nung was an ancient village that was buried in a volcanic eruption. The survivors cried so much in their grief that their tears created a lake.
Nguyen Thi Hong, a tourist from neighboring Dak Lak province said, "This is my second visit to Sea Lake. I love its unspoiled, magnificent landscape. Sea Lake is the best tourist destination in the Pleiku area. I will come back here again and again."
The beauty of Sea Lake changes with the seasons. In the dry season, the water recedes, revealing fertile basalt strips which are the temporary habitat of many rare birds. In the rainy season, the high tide makes it look like an ocean.
It's best to visit Sea Lake around the Lunar New Year when it becomes breezier, the water is emerald, and the trees start to grow buds. Don't miss the sunrise, when a morning mist lingers on the trees and water, or the sunset, when the dim sunlight pierces through the pine forests.
Nguyen Van Hao, a tourist from Hanoi, said, "Sea Lake is well-preserved, clean, and picturesque. It's a highlight of Gia Lai tourism. I love the pure air and romantic landscape. This is my first time to Sea Lake, which should be on your radar."
Sea Lake is the most ravishing natural freshwater lake in the Central Highlands.