Airlines offer ticket sales for coming New Year holidays
Saturday, 17:29, 16/07/2022
VOV.VN - A number of local airlines have put tickets on sale for flights during the upcoming New Year and Lunar New Year from January 12 to January 20, 2023.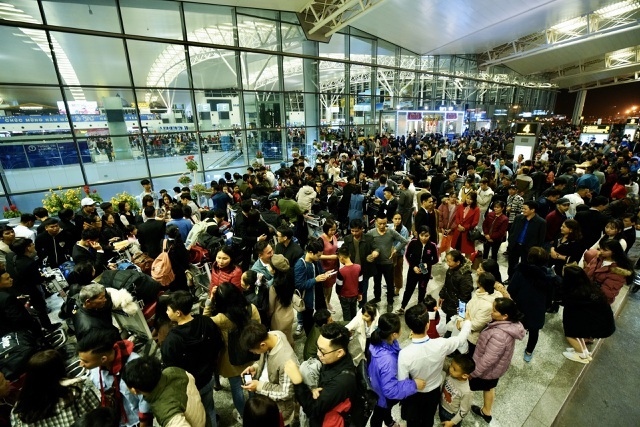 The promotion sees return tickets for the Ho Chi Minh City - Hanoi route of Vietnam Airlines and Bamboo Airways priced at between VND6 million and VND7.5 million (or between US$255.8 and US$319.8), while that of Vietjet is from VND4.6 million to VND5.5 million (between US$196.6 and US$235).
Flights between Ho Chi Minh City and Da Nang are also being sold at prices of VND4.5 million to VND5.5 million (US$192 to US$235).
Meanwhile, Bamboo Airways and Vietnam Airlines are selling round-trip tickets for flights from Ho Chi Minh City to Hue City at a price of VND4.9 million (US$209)  per person. The fare on other Vietjet flights is around VND4.3 million or US$183.4 per person.
Passengers who want to buy tickets from Ho Chi Minh City to Hai Phong must pay VND6.3 million (US$269) for round-trip tickets on Vietjet, while return tickets on flights on the route operated by Vietnam Airlines and Bamboo Airways cost VND6.5 million to VND7 million (US$277.4 to US$298.7).
Currently, air ticket prices are two times higher than the period during this year's Lunar New Year holiday. The price may change a few months before the festive period, depending on flight policies of local airlines.
Moreover, airfares have increased due to high fuel prices, with the price of ZA1 fuel climbing to between US$160 and US$170 per barrel from an the recent price of US$85.
According to Bloomberg, jet fuel now represents as much as 38% of an average airline's costs, a rise from 27% in the years prior to 2019. As a result, local airlines have been forced to increase fares to cover flight costs.