Additional domestic flights to operate from Dec.29
Thursday, 17:47, 30/12/2021
VOV.VN - The Ministry of Transport will permit an increase in the frequency of flights on a number of domestic routes moving forward, with the plan being initiated across two phases.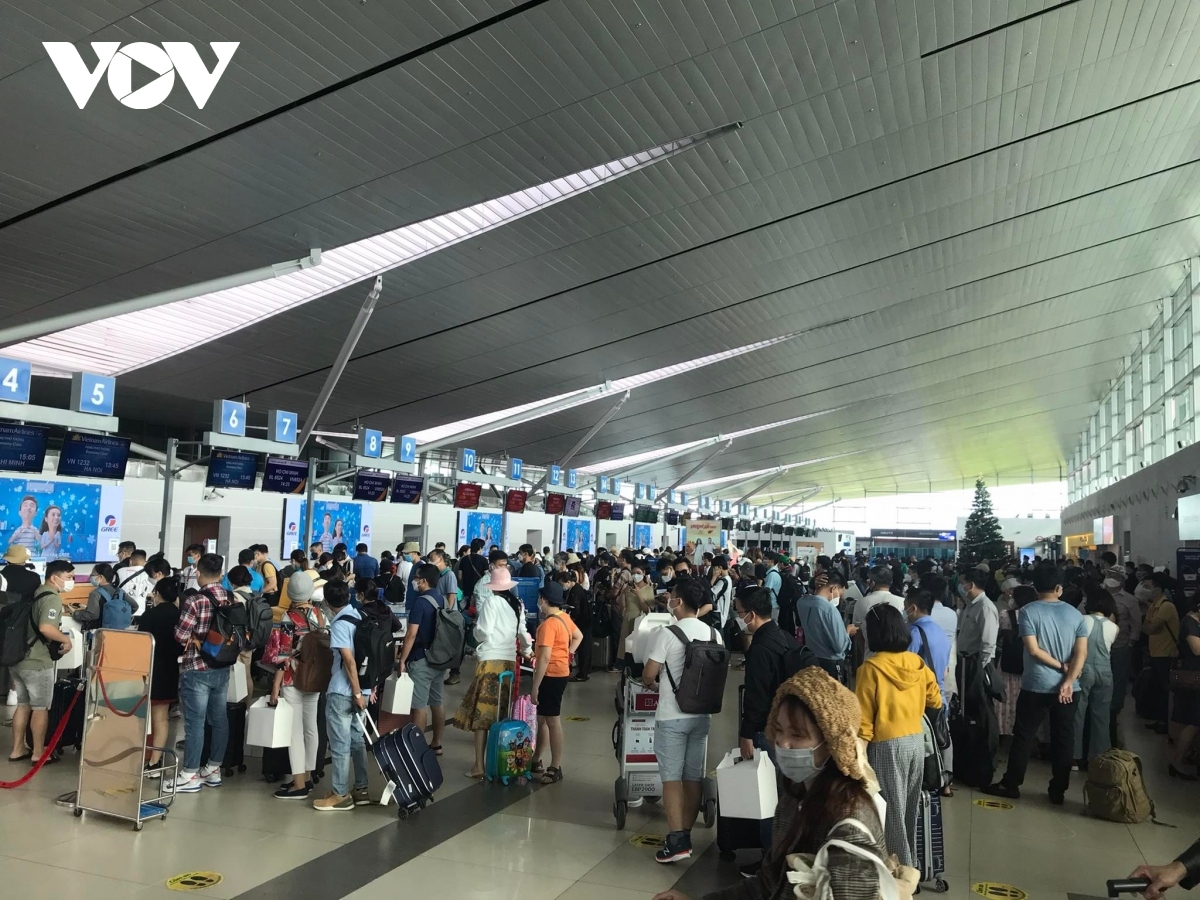 The first phase will be applied from December 29 to January 18, 2022, while the second phase will run from January 19, 2022, until February, 2022.
According to the plan, the numbers of two-way flights on the Hanoi–Ho Chi Minh City route will rise to 25 during the first phase, with this climbing to 52 daily flights in the second phase.
Furthermore, daily two-way flights on the Ho Chi Minh City-Da Nang route will be 20 and 27, in each respective phase. In addition, the number of two-way flights on the Hanoi–Da Nang route, will be increased to 20 per day during both phases.
Moreover, nine and 14 two-way daily flights will be allowed on the routes connecting Ho Chi Minh City with Hai Phong, Nghe An, and Thanh Hoa, while return trips from Hanoi and Ho Chi Minh City to Phu Quoc and Khanh Hoa will be raised to 14 and 27 in each phase.
Daily flights from Ho Chi Minh to Binh Dinh will increase to nine and 18 round trips per day, while other routes will be raised to nine round trips per day.
The Ministry of Transport has also assigned the Civil Aviation Authority of Vietnam (CAAV) to continue monitoring the local market situation and the development of the COVID-19 pandemic in localities nationwide. This will be done with the primary aim of adjusting the frequency of domestic flights during the New Year and Lunar New Year, known locally as Tet, with any potential changes occurring before January 13, 2022.
Vietnam Airlines Group, comprising of Vietnam Airlines, Pacific Airlines, and VASCO, announced that it will put roughly two million tickets up for sale on domestic flights during the upcoming Lunar New Year holiday.
The airline is also poised to add 10 more domestic routes in comparison to December.
Low-cost carrier Vietjet has also said that it will add flights to popular domestic destinations as from December 29 in order to meet peak travel demand as the lunar New Year festival is drawing near.
The airline is about to increase flights on the Hanoi – Ho Chi Minh City route to 49 round trips per week, while those connecting Hanoi and Ho Chi Minh City with Da Nang set to increase to 42 round trips per week until January 18, 2022.
In addition, the central city of Da Nang will welcome 27 flights ran by Vietnam Airlines, Vietjet Air, and Bamboo Airways on January 1, 2022.
It has also mapped out plans to co-ordinate with Vietnam Airlines to welcome between 15 and 180 passengers on board the first flight to the central city on this day.
So far, roughly 300 accommodation establishments, over 50 travel agents, and nine out of 16 tourism sites have now resumed operations, offering a number of special promotions in order to attract a growing number of visitors.
Nguyen Xuan Binh, deputy director of Da Nang's Department of Tourism, said that the city will continue to co-operate alongside tourism businesses in the central city to serve visitors during the New Year, while focusing on ensuring pandemic prevention and control regulations, as well as improving the overall quality of services.