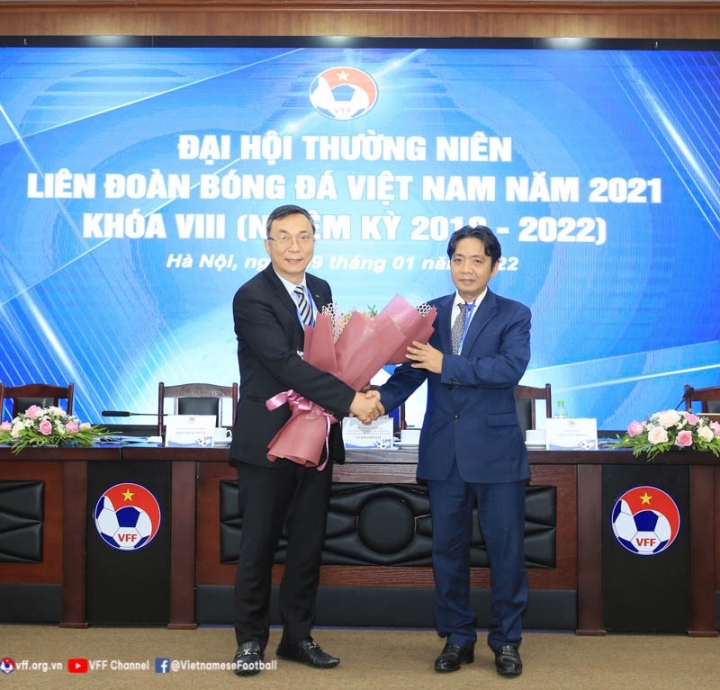 Acting President Tran Quoc Tuan will replace incumbent VFF President Le Khanh Hai who withdrew from his post to devote himself to his main position as Chairman of the State President's Office.  
Tuan, born in 1970, worked as General Secretary and Vice President of the VFF. He was continuously entrusted by the Asian Football Confederation (AFC) to be the chief executive at major events such as ASIAD 2014, ASIAN Cup Finals, and Asian U23 Championships.
Two years ago he was appointed by the AFC to hold the position of Chairman of AFC Competitions Committee.
Addressing the ceremony, Tuan vowed to work hard along with other members of the VFF Executive Committee to fulfil tasks set for 2022.  
Among other key tasks, the VFF will focus on developing football for juniors and professional football as part of the national football development strategy till 2020 approved by the Prime Minister.
It will develop plans for both national men's and women's teams to compete at international tournaments, including the final Asian qualifying round of FIFA World Cup 2022, AFF Suzuki Cup 2022, the 2022 Asian women's football tournament, U23 Asia 2022, ASIAD 19, and particularly SEA Games 31 to be held in Vietnam in May 2022.
According to Acting President Tran Quoc Tuan, U21 Vietnam are likely to take part in the U22 Southeast Asia tournament in Cambodia and the 19th Asian games (ASIAD 2022) in Hangzhou (China). Meanwhile, U23 Vietnam will compete at SEA Games 31 and the final round of U23 Asia 2022 in Uzbekistan.
Tran Quoc Tuan will take the helm of the VFF until the national football governing body holds its 9th congress for 2022-2026 scheduled for later this year to elect new leadership.