Vietnam crush Singapore 11-0 in U20 Women's Asian Cup qualifier
Friday, 11:10, 10/03/2023
Vietnam secured an emphatic victory of 11-0 over Singapore in a match of Group F in the 2024 AFC U20 Women's Asian Cup qualification on March 9 evening.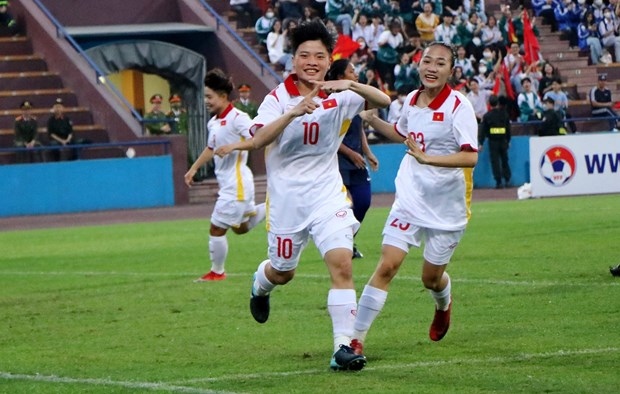 Ngoc Minh Chuyen (No 10) scored the opening goal right at the second minute of the first half, during which three more goals were netted for Vietnam.

Sustaining their performance, Vietnamese players forced their Singaporean rivals to concede seven more goals in the second half.

With this 11-0 win, Vietnam now have a better goal difference than the Indian team and top Group F.

Scoring five goals in total, Ngoc Minh Chuyen was selected the best player of the game.

The triumph at Viet Tri Stadium in Phu Tho province gave Vietnam the top place of Group F after two matches, opening up a chance for them to advance to the second round of qualifiers.

Speaking at the press conference after the match, head coach of the Vietnamese team Akira Ijiri said they target victory in all the three qualifying matches, so they do not plan to seek a draw in the next game against India.

They will make thorough and all-round preparations to earn the best possible result in the coming match, he went on.

Yip-au Hew Seem Chris, head coach of the women's U20 team of Singapore, said Vietnam played well, adding that she is excited to watch the Vietnamese footballers playing in the future as they showed dedicated and skillful performance.

Singapore will make all-out efforts to obtain a good result in the next game with Indonesia, she noted.

The Vietnamese women's U20 team will face India in the next match at 6pm on March 11 while Singapore will play against Indonesia at 3pm the same day.