National-level championship of Vietnamese martial art held in Algeria
Monday, 14:39, 17/01/2022
The first national-level Vo Viet Nam (previously called Son Long Quyen) championship took place in Algeria on January 14 and 15 to pay tribute to master Aitabdelmalek Larbi, who brought the Vietnamese martial art to the country in 1973.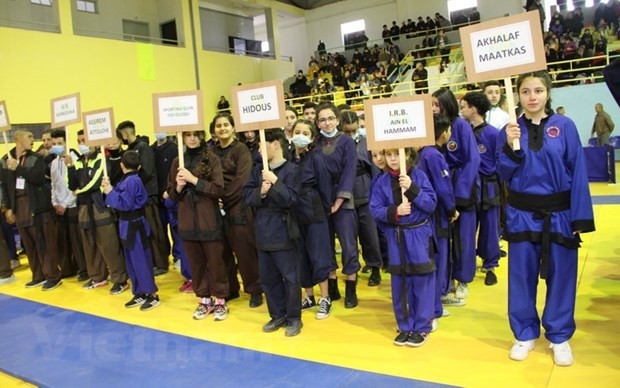 In his opening remarks, Vietnamese Ambassador to Algeria Nguyen Thanh Vinh said he is impressed by the large presence of martial artists of all ages, including females, as well as by their enthusiasm and seriousness in practice and competition.

The diplomat affirmed that the embassy always accompanies the Vo Viet Nam Federation in Algeria to expand the practice of the martial art here in contribution to enhancing cultural exchanges between the two countries.

According to President of the Vo Viet Nam Federation Ait Medjber, it was the first tournament organised by the federation after the interruption of activities due to the COVID-19 pandemic.

The event gathered 500 martial artists from clubs across Algeria as well as some foreign students studying and living in the country. It featured individual and team performances.

On the occasion, the Vietnamese Ambassador presented a medal to the president for his contributions to the development of the martial art in Algeria.

Vinh also met with Larbi and presented him the 'For the cause of culture, sports and tourism' insignia of the Vietnamese Minister of Culture, Sports and Tourism.

Son Long Quyen, together with many other Vietnamese martial arts, was introduced in Algeria in 1973, and now there are around 15,000 people training at some 200 clubs across the nation. Vovinam (Viet Vo Dao) is also a popular martial art among Algerians, and is followed by over 20,000 people across the country.