Motorkhana races to entertain fans of speed this weekend in Hanoi
Saturday, 11:17, 15/01/2022
The Vietnam Motorkhana Championship finals will be held at the Hanoi Circuit around the My Dinh Stadium on January 15.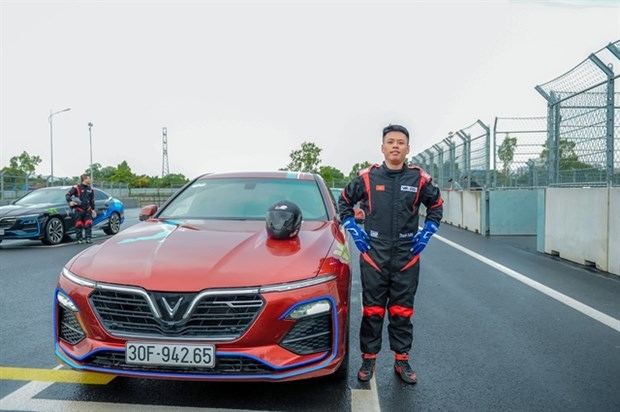 Nearly 30 drivers, who qualified last May in Dai Nam Race Course in the southern province of Binh Duong, will attend the event which is officially organised at national level for the first time.

The track the drivers will race on was original constructed to host the Formula 1 event that was cancelled due to COVID-19 in 2020.

Motorkhanas are motor sport events designed to test the acceleration, braking and handling of cars and the skill and judgment of drivers.

It involves manoeuvring a car through tight tests as quickly as possible -- one car at a time -- on either dirt or bitumen surfaces. This usually requires sliding and spinning the car accurately while maintaining speed through the test course. Some reversing is usually included.

Most importantly, motorkhanas provide fun and enjoyment while practising and learning car control. Oversteer and understeer will be found in abundance, but at safe speeds under controlled conditions.

Motorkhana seems unique to Australia and New Zealand, but similar events are known as Autotest in the UK, Autocross or Solo in the US, and may be known as Autokhana or Gymkhana elsewhere.

At the January 15 event, co-organised by the Vietnamese Motorsport Association Limited Liability Company (VMA LLC) and the Hanoi Department of Culture and Sports, drivers will compete in two competitions.

The first category consists of 16 racers, who have been granted a sports car racing licence by VMA LLC. The second category consists of 11 athletes from VMA LLC member clubs across the country.

Among athletes are Truong Nam Thanh who was in top 10 off the MUBA Auto Gymkhana Cup in 2019; Bảo Bảo who is Vietnam's first professional female racer and has raced in Grand Prix – F1 events in Shanghai, Monaco and Singapore as well as racing tracks in Mugello and Abu Dhabi; and Pham Thanh Dung, the only female driver in the Vietnam's first professional racing club, Redline Motorsport Club.

Vehicles used in racings are sedans, hatchbacks, CUV and SUV types which are normal means of daily transportation.

In addition to the main competition categories at the tournament, drivers and guests will also participate in the experience of Go Kart racing.

Due to the impact of COVID-19, audiences are not allow to watch at the track but the races but they will be broadcasted live on K channel.

This is the first time Vietnam's famous F1 racetrack has organised a competition since its completion last year.

The championship is scheduled to be held annually following FIA standards. The best drivers will represent Vietnam at the FIA World Motorsport Games in Europe in October.

VMA LLC has confirmed to host a stage of the Asia AutoGymkhana Championship in Hanoi later this year. Vietnam will have three representatives to compete.

VMA LLC is the FIA's Vietnam National Sporting Authority. The company is responsible for the governance and administration of all major forms of motor sport including the F1 Grand Prix in the country.

It promotes and improves motor sport as a widely recognised, accepted and respected sport, and by valorizing the values and spirit of competitive sport and fairness. It also advances and grows motorsports for Vietnamese participants at all levels.