GM Quang Liem qualifies for Chessable Masters's Division I
Tuesday, 12:45, 14/03/2023
VOV.VN - Vietnam's leading chess player Le Quang Liem has made it through to the Division I of the Chessable Masters online rapid tournament.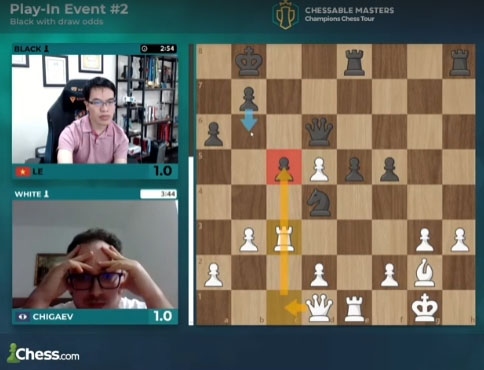 At the Armageddon game held on March 14 morning, Liem entered the match with caution as he faced off against grandmaster Maksim Chigaev of Russia.
Despite holding the black pawn, Liem forced the Russian player to accept defeat after 40 moves.
Following the game, Liem earned a place to enter the tournament's Division I while Maksim Chigaev play at Division II.
Moving forward, GM Quang Liem will play Magnus Carlsen, Nakamura, Wesley So, Fabiano Caruana, Levon Aronian, Vladimir Fedoseev, and Vladislav Artemiev in DivisionI of the tournament.
Meanwhile, other Vietnamese players Le Tuan Minh and Nguyen Ngoc Truong Son also achieved good results during the qualifying round of the tournament.
Minh beat Matthias Bluebaum of Germany to make it to Division II, while Son defeated Alexandra Kosteniuk of Russia to qualify for Division III.
The 2023 Chessable Masters is the second of Champions Chess Tour's six events, with the winner guaranteed of a spot in the Playoffs.
The event has a qualifier phase which is open to all non-grandmaster titled players. The qualified players can then join grandmasters in the Play-in stage, and top players will then move on to a Knockout stage featuring three divisions.
Each division has separate prize funds, with players also winning Tour Points according to their placement within each division. By the end of the tour's sixth event, the players with the most Tour Points will earn a spot in the CCT Playoff.
The Champions Chess Tour has a US$2 million prize fund, with US$235,000 going to the 2023 Chessable Masters.