Xuan Thuy National Park seeks ASEAN heritage status
Tuesday, 12:21, 19/09/2023
VOV.VN - Xuan Thuy National Park is set to prepare a dossier to submit to the ASEAN Centre for Biodiversity for approval as ASEAN Heritage Park.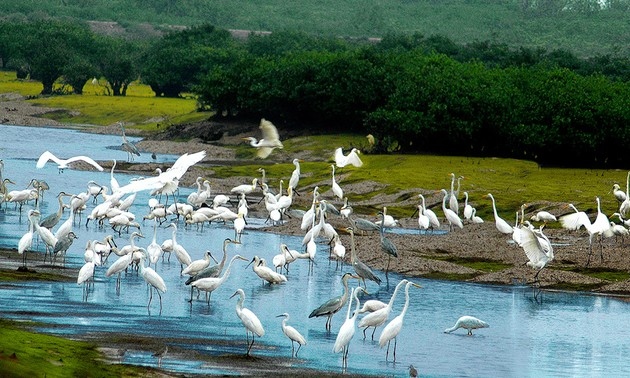 The preparation was adopted by the People's Committee of the northern province of Nam Dinh.
Xuan Thuy National Park is the first wetland throughout all of Southeast Asia to participate in the 1989 Convention on Wetlands of International Importance, known as RAMSAR.
In 2004, UNESCO recognised the site as the core area of the Red River Delta Biosphere Reserves and it quickly become a popular ecological tourism site. Located 150 km southeast of Hanoi, Xuan Thuy National Park in the northern province of Nam Dinh province is the habitat of hundreds of fauna and flora species. 
The 12,000-hectare park is particuarlly special for its geographical structure and diverse wetland ecological system. 
Its core area covers a site of 7,100 ha and is the habitat of 120 flora species, more than 500 fauna species, and 30 species of reptiles and amphibians. The area's ecological system is unique thanks to the rich soil of the Red River and the coastal area.
Between October and March, thousands of wild birds typically migrate from the north to Xuan Thuy National Park. 
Many of the 200 species of birds in the park are listed in the Red List of the Endangered species. 
Xuan Thuy mangrove forest is also home to many species of water-birds, whilst the fragrance of mangrove flowers in their blossoming season attracts honey bees.
The ASEAN Heritage Parks Programme began in 2003 and aims to conserve biodiversity in areas of regional and international importance, help to improve public awareness of the environment, and demonstrate ASEAN people's aspiration for nature conservation and sustainable development.
At present, the country is home to 12 protected areas recognised as ASEAN Heritage Parks.