Vietnamese anti-corruption efforts receive international appreciation
Monday, 17:43, 13/06/2022
VOV.VN - The past decade has seen Vietnam move up more than 30 spots in terms of the corruption perception index, as ranked by Transparency International (TI).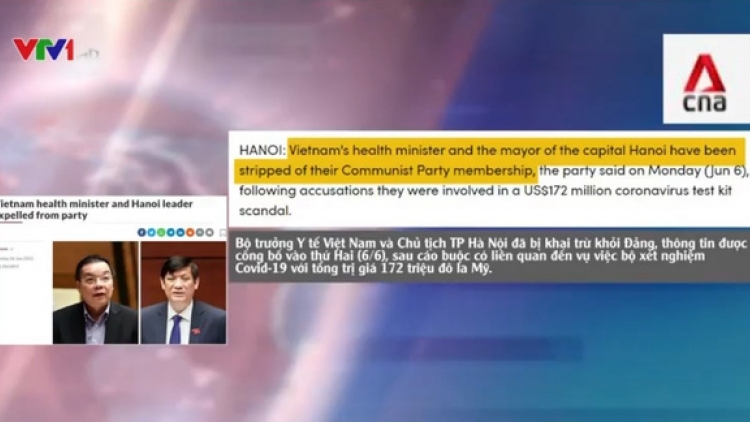 TI is an international non-governmental organisation set up aimed at tackling the issue of corruption globally and is present in more than 100 countries. It works alongside partners in government, business, and civil society in order to put effective measures in place to tackle corruption.
The country's anti-corruption efforts were one of the main subjects that captured international media attention over the past week.
Titled "What's Behind Vietnam's Latest Anti-Corruption Fight", the Bloomberg article analyzed the nation's anti-corruption campaign, particularly as the Vietnamese economy is the fastest growing in Southeast Asia.
According to details within the article, a total of eight inspection teams have been set up in an effort to deal with corruption cases, including at party committees and agencies, according to the Central Steering Committee on Anti-Corruption. More than 1,200 cases have been investigated this year, with over 730 involving more than 1,500 defendants brought to court. Indeed, over the last year the police have detained a number of executives as part of investigations into alleged stock price manipulation.
With a population of roughly 100 million, the nation has lots to gain economically providing that if it can bolster its image as a place to do business, it said.
According to Thomas Bo Pedersen, managing director at Mascot International Vietnam LtD and at Mascot International Laos LtD, this highlights the determination of both the Vietnamese Party and Government to combat corruption and negative phenomena in a systematic way. In addition, the recent establishment of the provincial Anti-Corruption Steering Committee is also a step in the right decision, he added.
Furthermore, a series of international news sites such as Channel News Asia, The Star, and Nation Thailand have reported that the former Minister of Health and former Chairman of the Hanoi People's Committee have been prosecuted and detained in custody. These wrongdoings relate to abusing their positions and powers while performing official duties, causing severe consequences and losses to the State budget.
Kenneth Atkinson, president of the British Chamber of Commerce in Vietnam (BritCham Vietnam), said that Vietnamese anti-corruption actions are extremely welcome, especially with cases involving high-ranking officials.
This can be viewed as a positive move and hopefully will be sustained. Indeed, it also helps to increase efficiency in business operations and management, he emphasized.
As a means of promoting anti-corruption and purifying the Party apparatus, the Government's efforts over recent years have also helped the country continue to improve the transparency of the State budget.
The nation was ranked 68th out of the 120 countries in the Open Budget Survey (OBS) 2021 which was recently released by the International Budget Partnership (IBP), up nine spots against 2019 and 23 compared to 2017's standings.