Vietnam – Singapore training centre marks 20th founding anniversary
Thursday, 09:58, 18/11/2021
The Singaporean Embassy in Hanoi has recently held a ceremony to celebrate the two decades since a memorandum of understanding signed between the Vietnamese and Singaporean foreign ministries to establish the Vietnam – Singapore Training Centre (VSTC).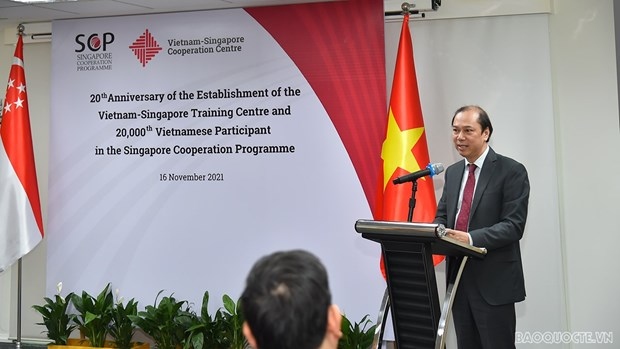 The centre was upgraded to the current Vietnam – Singapore Cooperation Centre (VSCC) in 2018.

Speaking at the event, Singaporean Ambassador to Vietnam Jaya Ratnam noted that the celebration and the 20,000th Vietnamese participant in the Singapore Cooperation Programme are a clear proof to the strong and long-term partnership between Singapore and Vietnam.
The two countries are very interested in collaboration and human resources development, considering them the key to their progressive and sustainable growth, the diplomat noted, affirming that Singapore continues to be strongly committed to supporting Vietnam's development journey.

He said the VSCC has been upgraded to host online courses taking place given the COVID-19. Despite pandemic-induced disruptions, the number of people enrolled in its courses remained high, with its online platforms attracting more public personnel across many provinces in Vietnam.

Lauded the centre's sound outcomes regarding its training of Vietnamese personnel over the past 20 years, Deputy Minister of Foreign Affairs Nguyen Quoc Dung expressed his delight at its courses covering diverse fields such as language, communications, management, law, and finance, banking.

The VSCC is an exemplary model in the Vietnam – Singapore strategic partnership, contributing significantly to Vietnam's human resources improvement amid its regional and global integration processes, Dung affirmed.

Thanking the Singaporean side for the support, he hoped that Vietnamese personnel would have more chance to enhance their capacity from courses offered by the centre in response to regional and global challenges and serving Vietnam's demand for recovery and development after COVID-19.