Vietnam receives US-donated Moderna COVID-19 vaccine
Saturday, 11:02, 10/07/2021
VOV.VN - A plane carrying 2,000,040 doses of Moderna vaccine donated by the US touched down at Noi Bai International Airport in Hanoi on July 10.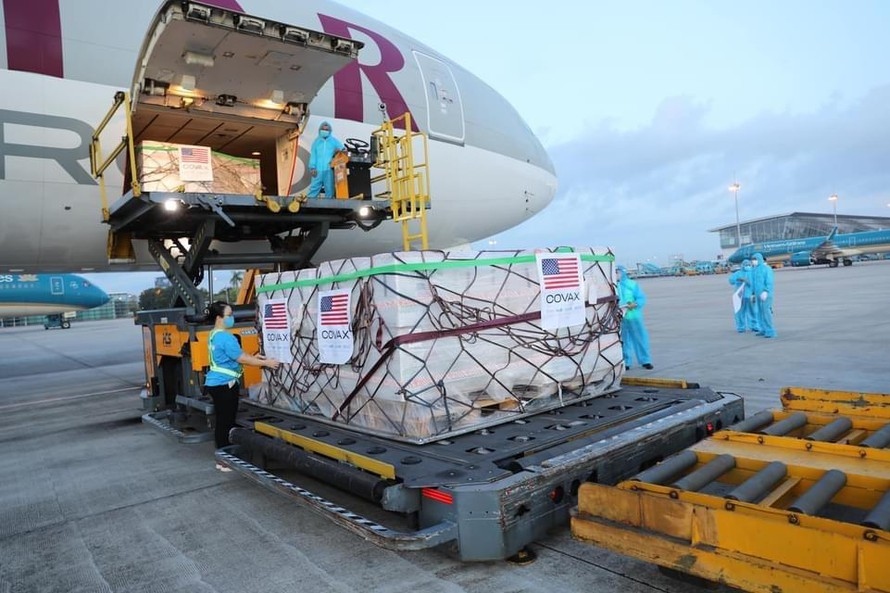 The shipment channeled through COVAX Facility is part of the 80 million doses of vaccine that President Joe Biden has committed to sharing with other countries globally.
Addressing the hand-over ceremony, Charge d'Affaires Christopher Klein of the US Embassy in Hanoi, noted "The shipment gives us hope that there is an end in sight to our fight against COVID-19.  It gives us hope that we will be able to return to our normal lives." 
Vietnam is battling with the fourth coronavirus outbreak with the virus spreading to 55 out of all 63 cities and provinces nationwide. Approximately four million doses of vaccine have been administered, a rather low vaccination rate compared to other countries, while the number of infections has kept rising over the past days.
Kamal Malhotra, UN Resident Coordinator in Vietnam, welcomed the US shipment, saying "The clearest pathway out of the pandemic is equitable access to vaccination for healthcare workers and priority groups such as the elderly and those with co-morbidities in every country. Dose donations are an immediate and urgent way to address this. We continue to call on well-supplied countries to donate doses now to protect those most at risk as soon as possible"
In addition to the July 10 shipment, Vietnam has previously received 2,493,200 doses of AstraZeneca vaccine via the COVAX Facility, an international mechanism co-led by the World Health Organization (WHO), Coalition for Epidemic Preparedness and Innovations (CEPI), GAVI - the Vaccine Alliance, and UNICEF as a key delivery partner.
As soon as Vietnam received the US shipment of vaccine, Minister Nguyen Thanh Long decided to dispatch one million doses to Ho Chi Minh City, the hardest hit locality in the country.
Moderna is a vaccine for preventing coronavirus disease 2019 in people aged 18 years and older. It is a suspension for intramuscular injection administered as a series of two doses (0.5 ml each) 1 month apart.
The vaccine contains a molecule called messenger RNA (mRNA) with instructions for producing a protein from the SARS-CoV-2 virus that causes COVID-19, according to European Medicines Agency.
Moderna is said to be 94% effective against symptomatic SARS-CoV-2 infections. Its safety profile is also similar to Pfizer's, with fatigue, headaches and pain at the site of injection among the most often cited side-effects.
Moderna is the fifth COVID-19 vaccine that has been approved for use in Vietnam, after AstraZeneca, Sputnik V, Pfizer and Sinopharm.