Vietnam-Asia DX Summit 2023 promotes digital transformation
Wednesday, 18:01, 24/05/2023
VOV.VN - The Vietnam-Asia DX Summit 2023 opened in Hanoi on May 24 as part of efforts to accelerate digital transformation for socio-economic development.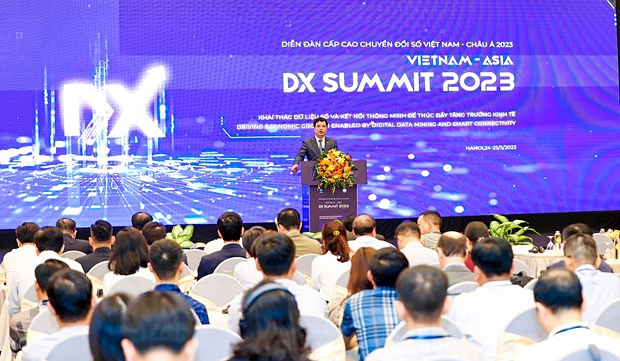 The two-day summit has brought together nearly 600 delegates from the public and private sectors both at home and abroad, and leading experts in the field of information technology - digital transformation.
Vietnam ranked 86th out of 193 countries and territories in the United Nations e-Government Survey 2022, while it climbed five notches to 76th position out of 193 countries and territories in the United Nations' Online Services Index 2022. The country was also classified in the group of countries with the E-Government Development Index (EGDI) higher than the average of the world and Asia, as well as Southeast Asia.
The country has been acknowledged by Google as the fastest growing digital economy in Southeast Asia. According to the Vietnamese Ministry of Information and Communications, the digital economy currently accounts for about 14.26% of the country's GDP.
2023 has been observed as the National Year of Digital Data in Vietnam, and the government has issued an action plan in this regard.
Addressing the event, Deputy Prime Minister Tran Hong Ha requested that localities accompany digital businesses and remove their obstacles to help them access loans, promote technology transfer and train high-quality human resources for development.
He also underlined the need to boost digital infrastructure development, ensure network information security, build an ecosystem of products, services and solutions in the field of digital technology, and strengthen international cooperation in digital transformation.
Taking the floor, Nguyen Van Khoa, head of the Vietnam Software & IT Services Association (VINASA), pointed out that to accelerate digital transformation, Vietnam needs an overall national digital data strategy, with data to be used to bring great value to the economy.
"We've actually seen the data as a gold mine, and this is when the gold mine starts to open up. But how to exploit this gold mine is a long way. It is time for us to embark on a more powerful digital transformation," said Khoa.
At the summit, representatives of large Vietnamese technology firms such as Viettel, VNPT, FPT, MISA, and FSI shared models of connection and cooperation between businesses and the government in creating and exploiting digital data, and offering digital services to people and businesses. International delegates also shared useful cooperation models.