Vietnam among 10 countries with largest number of smartphone users
Wednesday, 18:23, 20/04/2022
VOV.VN - Vietnam has been listed among the world's top 10 countries having the largest number of smartphone users this year.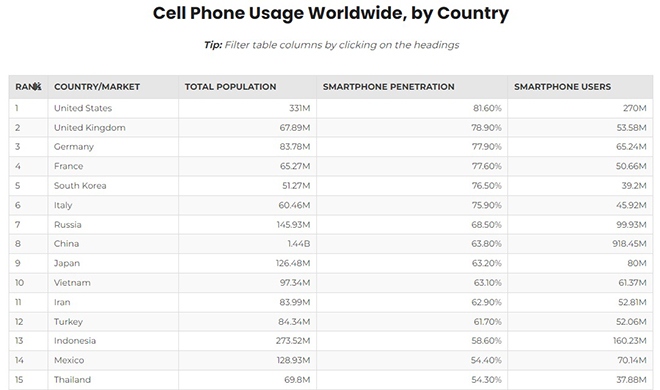 BankMyCell, a leading trade and comparison website in the United States, recently reported that Vietnam has a total of approximately 61.37 million smartphone users out of nearly 100 million people, ranking 10th in the top ten.
China leads the way with the most physical smartphone users at 918.45 million. Meanwhile, Thailand features the lowest number of smartphone users with 37.88 million.
Last year, a survey conducted by Statista revealed that roughly 61.3 million smartphones were in use in Vietnam. Annual smartphone sales tripled from 2009 to 2015, with the market stabilizing at around 1.5 million units per year.
According to the Ministry of Information and Communications, the proportion of adults using smartphones domestically is 73.5% at present, and the figure is likely to rise to 85% by the end of 2022.
Globally, approximately 1.38 billion smartphones were sold in 2020, and the figure is also projected to soar this year.