Vietnam active in IUU combat
Thursday, 12:55, 16/03/2023
Vietnam's coast guards have been working closely with localities to fight illegal, unreported and unregulated fishing (IUU) with concerted measures over the past years.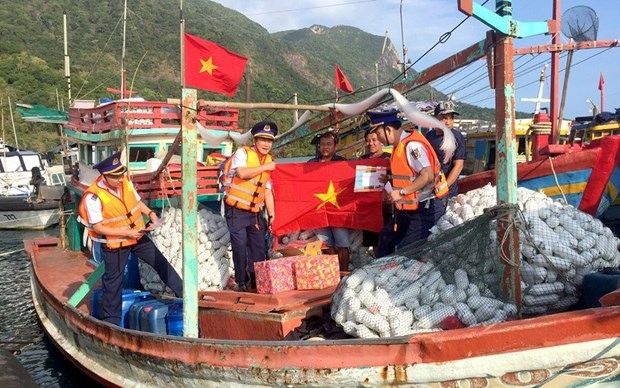 Lieut. Col. Nguyen Van Hoc, commander of a patrol team, said his team consists of seven ships. They are responsible for conducting patrols, inspection, and ensuring legal enforcement in adjacent waters, urging fishermen not to violate IUU regulations, starting from before the 2023 Lunar New Year (Tet) festival.

He said before the 2023 Tet festival, the border waters under the management of his team was only frequented by 20-40 fishing vessels. However, following the holiday, there have been an average of 70-150 per day coming here to catch seafood.

During crackdowns on IUU fishing, the fleet increased patrols, especially from 4-10am and 4-10pm every day when fishing vessels were most likely to cross into foreign waters to catch seafood.
They also raised awareness among thousands of fishermen about policies of the Government, the national and Defence Ministry's steering committees on IUU prevention and control.
After nearly 50 days on duty in border waters, Hoc's fleet punished 32 fishing vessels that violated regulations on fishing at sea, such as lacking a captain's license and necessary personal documents of crewmembers. They imposed a total fine of nearly VND400 million (US$17,300).
Captain Le Anh Tuan, head of Ship 4039 of Coast Guard Region IV, said apart from the main task of increasing patrols and preventing Vietnamese fishing vessels from violating IUU fishing regulations, his fleet also assists fishermen working legally such as providing fresh water, medicines, food and vegetables, and especially providing assistance for fishermen in distress at sea.
To enhance the involvement of the entire political system in the IUU combat, the Coast Guards High Command directed units to add IUU prevention and control contents into its programmes and mass mobilisation work, contributing to disseminating the Party's policies and State's laws on protecting sovereignty over seas and islands in the new situation, as well as IUU combat regulations.
As a result, not any fishermen have failed to comply with orders from patrol teams, intentional violations of IUU fishing regulations have decreased significantly.