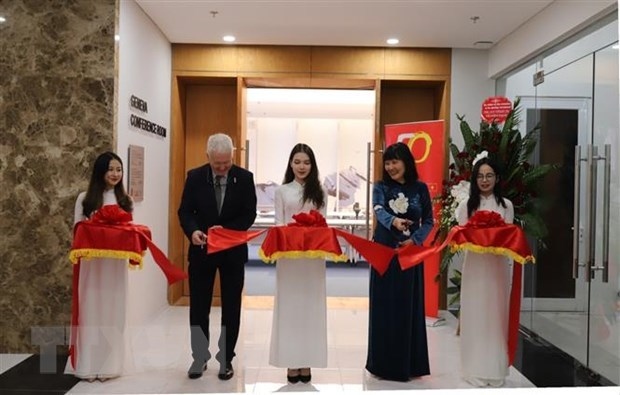 The Swiss-designed conference room reflects the city's natural surroundings with the lake of Geneva and its mountain scenery. It carries special symbolism and offers a new and inspiring connection between Geneva and Hanoi. As European headquarters of the United Nations, Geneva is the operational heart of the multilateral system. The city earned itself the title of capital of peace, acting as place of dialogue, including for facilitating peace conferences and processes. Geneva's open mind and spirit, allowing for inclusive and tolerant debates among people of different views and opinions, aims at nurturing constructive discussions.

Speaking at the inaugural ceremony, Ambassador Sieber stated that the conference room's inauguration is part of activities to mark the 50th anniversary of diplomatic ties between the two countries, thereby spotlighting the long-term friendship, mutual trust and solid foundation between the two countries.

He said the recent visit to Vietnam by Swiss Vice President Ignazio Cassis, and the upcoming official visit to Switzerland by Vietnamese President Nguyen Xuan Phuc are clear evidence for the two countries' strong commitments to promoting their bilateral partnership.

Sieber said with its support for DAV in interior design of the conference room, Switzerland wishes to create a long-term link between Vietnam's leading training-research institution on international relations with Geneva – the multilateral system centre. 

For her part, acting director of DAV Dung said the facility's inauguration shows that the bilateral relationship between Vietnam and Switzerland has been further expanded, from humanitarian and development assistance, trade and investment, to education – training, and human resources development, which are key for sustainable and long-term development.

Ambassador Sieber revealed his country's candidacy for a non-permanent membership of the UN Security Council (UNSC) for the 2023-2024 tenure.