Strong institutions could protect public health through future pandemics
Wednesday, 18:23, 30/06/2021
VOV.VN - The brookings.edu website of Brookings Institution, a research group based in the United States, has published an article hailing Vietnamese success in combating the COVID-19 pandemic due to their strong and durable institutions.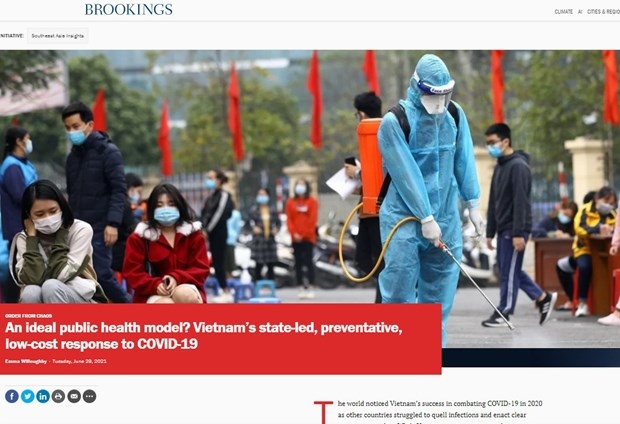 According to the website, throughout 2020 there has been an outpouring of discussion regarding how the nation has been able to achieve such a feat and what lessons could be learned for other countries.
It noted that when the threat of COVID-19 emerged, the Vietnamese Government quickly ordered and strictly enforced border closures.
"These measures included halting all outbound flights from the country and directing all incoming passengers to quarantine facilities in military barracks, including repatriated citizens and foreigners alike," according to Brookings Institution.
The article went on to highlight that contact tracing was extensive for all suspected COVID-19 cases, which also were low at the time, with all individuals suspected of being exposed to the virus swiftly identified and put into isolation.
"Of course, to implement this strategy of mass, co-ordinated quarantine, including cooking and delivering meals to those in isolation, employing sanitation efforts, contact tracing, and testing, required a large human resource capacity, which the Vietnamese Government recruited among medical students and workers, party-affiliated social organizations, and the military."
"Social media, widely available in Vietnam, was used to promote public health messaging and dispel misinformation," the website stressed.
While the country's current outbreak is dwarfed by neighbouring nations such as Indonesia and the Philippines, the Government continues to enforce quarantine regulations for all individuals who are traced, as well as suspected cases. This is in addition to imposing strict regulations on foreign entry, according to the piece.
The article added that the Vietnamese Government is demonstrating that it can deploy necessary policies and resources to implement various strategies. This relates to choosing to protect public health during a global pandemic or increasing accountability and transparency of governance to attract additional foreign investors. Certainly, the Vietnamese Government's public health approach can be viewed as highly impressive, with the country being uniquely positioned to take on the challenge of COVID-19.

Moving forward, recent outbreaks will require the nation's public health ministries and surveillance capabilities to maintain strong co-ordination with government leadership due to continued pressure to reopen the country to both foreign tourists and businesses.

"Vietnam has also proven that it has strong and durable institutions that could protect the country's public health through future pandemics, without relying on vaccines alone," the article stressed.

The Vietnamese Government has therefore demonstrated that it can implement an effective preventative public health model through the structures of its state. This is therefore the lesson for other nations and governments to learn from to prepare state-led pandemic responses in the future, it concludes.