Samsung offers job opportunities to Vietnamese students in RoK
Monday, 16:29, 20/06/2022
VOV.VN - Samsung Display Vietnam (SDV) and the Vietnamese Students Association (VSAK) in the Republic of Korea (RoK) have signed a memorandum of understanding (MoU) to arrange a workshop specifically focusing on personnel recruitment.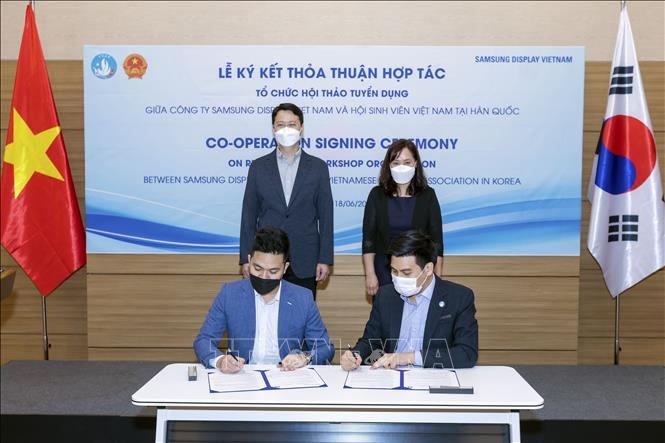 The signing of the MoU is expected to open up fresh job opportunities for Vietnamese students and researchers at SDV production lines.
Addressing the event held at the Vietnamese Embassy in the RoK, the two sides committed to jointly organising a recruitment workshop for all students and postgraduates to seek out high-quality human resources for SDV, and at the same time to provide useful information and necessary skills during the recruitment process.
Le Van Hung, first secretary of the Vietnamese Embassy, highlighted the significance of the event, saying it marks the first time that such a large company like SDV has signed a co-operation agreement with VSAK in the RoK.
The Vietnamese Embassy in the RoK is fully committed to providing further support to SDV and VSAK in creating greater opportunities for Vietnamese international students in the future, he said.
In response, Nguyen Huy Hoang, head of Human Resources Department of SDV, emphasised that the main purpose of signing the MoU is to develop a comprehensive co-operation relationship between the company and VSAK, helping SDV access a high-quality pool of workers made up of Vietnamese students and PhD holders.
Through this co-operation programme, SDV hopes to increase the job opportunities for the Vietnamese community in the RoK, he stressed.
Hoang went on to reveal that SDV plans to recruit a number of personnel with doctoral degrees with attractive salaries ranging between US$20,000 and US$40,000 per year.
Furthermore, VSAK will also co-ordinate with SDV to organise a series of recruitment workshops at five famous universities in the RoK, including Hanyang University in Seoul, Sungkyunkwan in Suwon, KAIST Institute in Daejeon, Ulsan University, and Busan University, he added.