Repatriation flights must be conducted in line with regulations: Deputy PM
Saturday, 10:04, 12/03/2022
Permanent Deputy Prime Minister Pham Binh Minh has assigned the Ministry of Transport to coordinate the Ministry of Foreign Affairs (MoFA) and relevant agencies to quickly arrange flights funded by businesses to bring home Vietnamese citizens from Ukraine.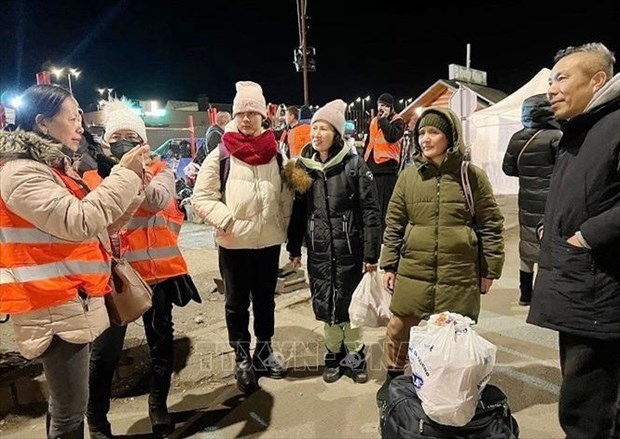 The flights must be carried out in an open and transparent manner and in line with regulations, the official said in a document dated March 11.

The Ministry of Finance was also asked to join hands with the MoFA, the Ministry of Public Security and agencies in the implementation of the Deputy PM's document on the conduct of such repatriation flights, issued on March 9.

Any matter that comes beyond their power should be reported to the Prime Minister, according to the March 11 document.

On March 10, the government allowed Sun Group to finance 10 Vietnam Airlines flights to bring home Vietnamese citizens and their family members evacuated from war zones in Ukraine to its neighbouring countries.

More than 4,500 Vietnamese people had been evacuated to Romania, Poland, Hungary, Slovakia and Russia as of 4pm on March 11, of whom nearly 600 were flown home on March 7 and March 9.

As many as 610 Vietnamese citizens in Romania and some 500 others in Poland have registered for repatriation flights.
There will be two repatriation flight from Poland and Romania, both scheduled to depart from Hanoi on March 12 afternoon and arrive home on March 13 morning.

Those who want to go home can continue to register for flights at https://docs.google.com/forms/d/e/1FAIpQLSdQqfqeq3QTxl8CKLqbAwkQnOpHiRu8wj8hiN2lqhnqp4j-OA/viewform

To receive assistance in case of need, Vietnamese people in Ukraine and its neighbouring countries can contact the following phone numbers and emails:
Ministry of Foreign Affairs: 84-965411118, 84-981848484; Email: baohocongdan@gmail.com
Vietnamese Embassy in Ukraine: 380 (63) 8638999
Vietnamese Embassy in Russia: 79916821617
Vietnamese Embassy in Poland: 0048782257359
Vietnamese Embassy in Romania: 0040744645037
Vietnamese Embassy in Slovakia; 421 2 5245 1263, 421 915 044 329, 421 915 419 568
Vietnamese Embassy in Hungary: 36 308 385 699.