Potential for co-operation between French and Vietnamese localities
Wednesday, 12:51, 15/06/2022
VOV.VN - Vietnamese Ambassador to France Dinh Toan Thang paid a working visit to Montpellier in Herault province of the Occitanie region in southern France on June 13-14 as part of activities aimed at stepping up co-operation between both nations.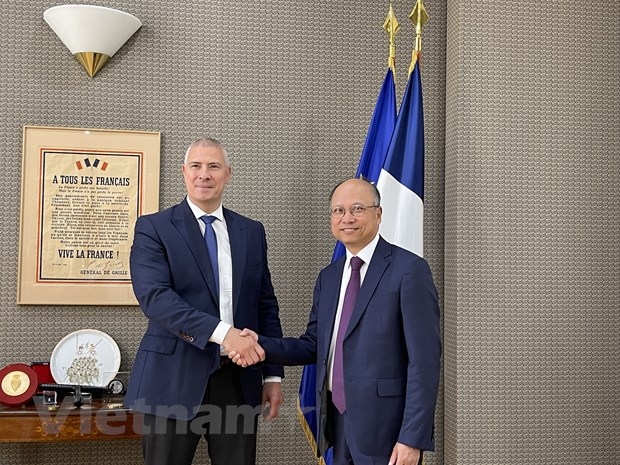 During the meeting, Hugues Moutouh, governor of Herault province, affirmed that Montpellier and many localities throughout the Occitanie region enjoy close links with Vietnam in fields that the two sides boast potential in for strong development.
Leaders of Montepllier expressed their great appreciation for the successes of co-operation projects, emphasizing the model of training co-operation between Paul Valery Montpellier University and the University of Foreign Languages - Hanoi National University. Through these ties, an outstanding programme is running a university training scheme on Vietnamese culture and language.
He affirmed his strong desire to continue speeding up Montpellier's projects and areas of strength, such as training, culture, languages, public health, and agricultural product processing.
For her part, Clare Hart, vice-mayor of the city of Montpellier, said she anticipates Vietnamese partners to engage in a project to develop Montpellier into a world-class medical centre, as well as develop Francophone partnerships.
During the course of the meetings held with local authorities, Ambassador Dinh Toan Thang welcomed partners' efforts in developing friendship and co-operative ties between both sides.
The Ambassador therefore invited partners to participate in the 12th Vietnam - France Decentralized Cooperation Conference that is set to take place in Hanoi at the end of December, as well as activities ahead in 2023 to celebrate 50 years of diplomatic ties and 10 years of strategic partnership between Vietnam and France.
Within the framework of the visit, Ambassador Thang and his delegation visited Paul Valery Montpellier University, attended the France - Vietnam economic seminar organised through the "Tremplin pour le Vietnam" program in collaboration with the Montpellier Young Business Association.
As part of this occasion, a delegation representing the Vietnamese Embassy in France also visited Montpellier Medical University, which is the oldest medical faculty in Europe at 800 years old. In addition, it has many years of co-operation activities with medical training institutions in Vietnam and has previously worked with representatives of local associations to stand in solidarity with Vietnamese partners.