Naval soldiers who died on southern continental shelf commemorated
Monday, 12:52, 10/01/2022
A ceremony was held at Platform DK1/9 of Naval Region 2 on January 10 to pay tribute to soldiers who laid down their lives on Vietnam's southern continental shelf.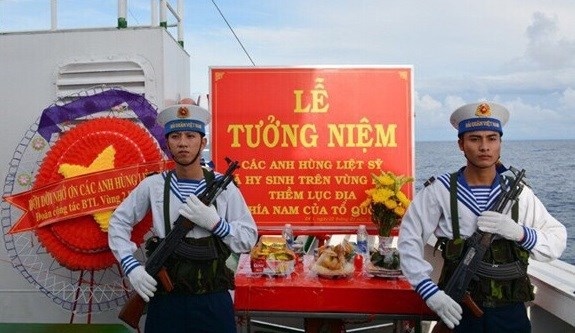 Colonel Vu Duy Luu, deputy head of the Political Department of Naval Region 2, recalled the establishment of the economic-scientific-service platform cluster DK1 on the southern continental shelf, which was set to serve the task of safeguarding national sea and islands.

Over the past three decades, generations of naval solders of Battalion DK1, who come from different localities across the country, have braved great hardship and worked on those platforms on the continental shelf, he said.

During strong storms in 1990, 1996, 1998 and 2000, several platforms were destroyed, causing the death of a number of naval officers and soldiers working on the platforms.

Their sacrifice has become a noble symbol of naval soldiers' heroic virtue in the new period, Colonel Luu stressed.

The participants held a one-minute silence, burned incense and released flowers in memory of the fallen soldiers.