NA Vice Chairman congratulates VOV, VTV on Revolutionary Press Day
Saturday, 19:46, 19/06/2021
A delegation from the National Assembly (NA) Standing Committee led by NA Permanent Vice Chairman Tran Thanh Man on June 19 visited and extended greetings to Radio The Voice of Vietnam (VOV) and Vietnam Television (VTV) on the occasion of the 96th Vietnam Revolutionary Press Day (June 21).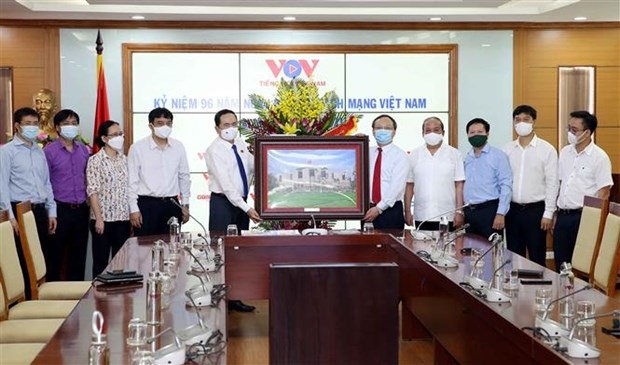 At the two central press agencies, Man lauded the role of the press in reporting people's opinions to the Party and State, and popularising policies and laws of the Party and State to people.

Over the years, VOV and VTV have strongly reformed themselves for higher operational efficiency, he noted, highlighting contributions of the agencies to the success of major events of the countries, including the 13th National Party Congress, the general elections, as well as in disseminating information about COVID-19 prevention and control activities.

Particularly, VOV, VTV and other media agencies have actively spread the voice of the people to the legislature, said Man.

He expressed his hope that in the future, VOV and VTV will continue reforming themselves to further improve the effectiveness of their operations, enhancing the capacity of reporters, editors and technicians, completing their tasks as the leading central media agencies in the Vietnamese revolutionary press system.