Most Venerable Thich Tri Quang serves as Acting Supreme Patriarch of VN Buddhist Sangha
Saturday, 09:57, 01/01/2022
Most Venerable Thich Tri Quang was selected as Acting Supreme Patriarch of the Patronage Council of Vietnam Buddhist Sangha (VBS) at the 6th meeting of the 8th VBS Executive Council on December 31.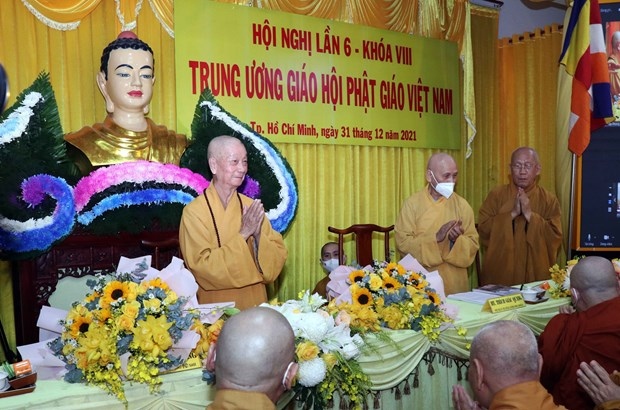 Before holding the new position, Thich Tri Quang was Deputy Supreme Patriarch of the VBS's Patronage Council.

His predecessor, Supreme Patriarch Most Venerable Thich Pho Tue, passed away on October 21 at the age of 105.

At the teleconferenced meeting, Deputy Minister of Home Affairs Vu Chien Thang, who is also Chairman of the Government's Committee for Religious Affairs, spoke highly of efforts by Buddhist monks, nuns, and followers in both religious and social activities in 2021, including their support for the COVID-19 combat.

He asked the VBS to continue standing side by side with the Party and State in the pandemic fight and organise activities appropriate to the reality in the upcoming Lunar New Year holiday.

In 2021, the VBS held a number of charitable and social deeds with total value of over VND2.55 trillion (US$111.6 million), including presenting medical supplies to the governments and people of India, Nepal, Laos, and Cambodia.