MoH suggests COVID-19 control measures for tourism sector
Wednesday, 12:59, 02/03/2022
The Ministry of Health (MoH) has suggested that the Ministry of Culture, Sports and Tourism adjust and supplement the contents of its draft plan to reopen tourism sector regarding COVID-19 prevention and control measures.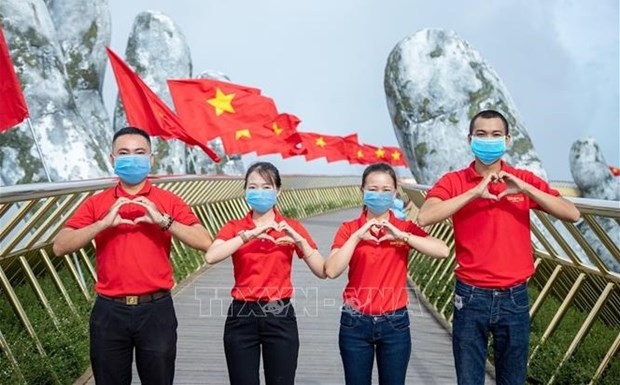 In its feedback to the draft plan, the MoH underlined the need to consider the evaluation of pandemic level in each locality and region providing tourism services, while ensuring that all localities have already designed their plans to respond to COVID-19 circumstances while resuming tourism activities to protect the health of tourists and the community.

It is necessary to clarify the responsibilities of localities and tourism service suppliers as well as tourists in supervising and implementing COVID-19 prevention and control measures, it said.

The MoH suggested conditions for specific tourist groups, under which visitors aged 12 years and above must have a certificate of full COVID-19 vaccination isssued by authorised agencies, with the last dose given at least 14 days and no more than six months from the time of departure, or a certificate of recovery from the disease or equivalent documents certifying that they have recovered from COVID-19, issued by a competent authority in the country of treatment within a period of not more than six months.
High-risk groups, including people from 65 years old, pregnant women and people with background diseases, should be advised to restrict their travel until a new instruction, while getting full COVID-19 shots before entering Vietnam.

Tourists should carry negative test result for SARS-CoV-2 (by RT-PCR/RT-LAMP method) within 72 hours before entering Vietnam.

Foreign tourists must make health declaration before entering the country and use PC-COVID app throughout their stay.

They should inform medical staff at border gates if showing COVID-19 symptoms, while following the 5K message. They must stay at their accommodation within 72 hours of entering Vietnam.

Children under 12 are not required to have vaccination certificates, while those under 2 years old will not need to take COVID-19 tests to join tourism activities outside their accommodation, the MoH recommended.