Localities suspend face-to-face learning amid COVID-19 fears
Sunday, 22:15, 20/02/2022
VOV.VN - Due to the rapid transmission of the SARS-CoV-2 virus in the community, several localities have suspended face-to-face learning and resumed online learning.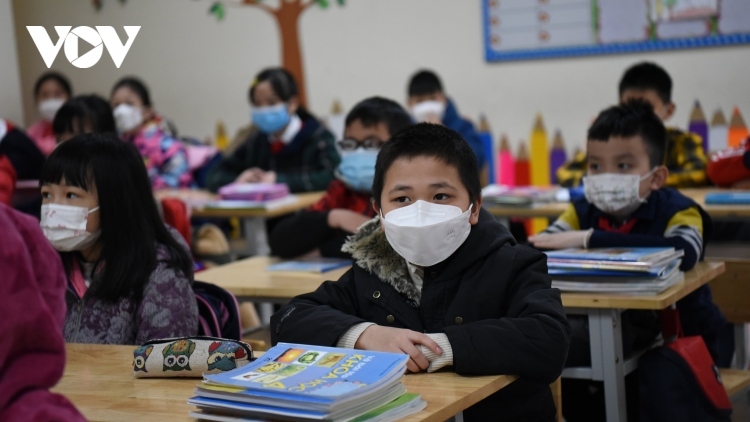 The administration of northern Vinh Phuc province has allowed primary and lower secondary schools to resume distance learning, starting on February 21, until further notice.
High schools are required to continue both physical and virtual learning. Virtual learning is applicable to all F0 and F1 cases and students suffering from underlying illnesses.
The local administration has requested the health and education sectors to assess the development of the outbreak to decide on appropriate forms of learning to ensure the safety of students and to meet parent's aspirations.
In the northern mountainous province of Lao Cai, the COVID-19 outbreak is evolving in a complicated manner, The past three days saw Lao Cai record nearly 3,000 cases, including 1,315 cases in Lao Cai city of Lao Cai province.
Currently, 15 communes and wards of Lao Cai city are red zones – the highest COVID-19 alert level.  
The provincial administration has allowed all primary schools in Lao Cai city to suspend in-person learning and resume online learning until further notice.
In the capital city of Hanoi, the municipal administration has approved the education sector's proposal to postpone face-to-face learning for first to sixth graders slated for February 21.
Over the past weeks, Hanoi has topped localities nationwide in infection numbers, registering several thousands of new cases daily. On February 20 alone, its daily count surpassed the 5,000 case mark, hitting 5,102, according to statistics unveiled by the Ministry of Health.  
A large number of parents have voted in favour of online learning given the current context of the COVID-19 outbreak.
The Ministry of Education and Training reported that the numbers of teachers and students exposed to the virus have increased considerably in various localities after the lunar New Year holiday, reaching approximately 10,000 in Hai Phong, and nearly 2,500 in Thanh Hoa. Many educational institutions have offered both physical and online learning.