Health professional plays down worries over COVID-19 infection rise
Friday, 13:00, 18/02/2022
VOV.VN - With COVID-19 infection numbers rising significantly following the nine-day Lunar New Year holiday, questions have been asked about whether or not local people should be scared of another COVID-19 wave after the festive period.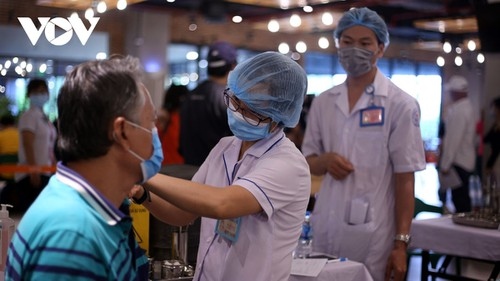 Official data from the Ministry of Health show the daily number of new infections has skyrocketed, from fewer than 10,000 during the holiday to 20,000 and more than 30,000 these days.
Most notably, February 17 saw Vietnam record more than 36,000 new infections and the figure is expected to keep rising over coming days.
Assoc. Prof. Tran Dac Phu, former head of the General Department of Preventive Medicine, attributed the rise to the relaxation of restrictions in almost all areas, following the Government's decision to switch to a strategy of living safely with the virus.
The relaxing of rules serves to increase the chances of social contact between citizens, leading to an increase in community infections.
This sharp increase can also be put down to the return of students and workers after a long holiday.
However, according to Dr. Phu, people should not be worried about the recent increase in infections. He said the current situation may not be as serious as seen previously, largely due to the high vaccination rate and better health care services.
Specifically, COVID-19 patients, including those suffering from mild symptoms, are now able to receive early treatment from a wide network of medical facilities, typically mobile clinic stations.
Still, he suggested that people strictly follow COVID-19 recommendations, including the 5K practice, to better protect themselves from virus infection.