Hanoi cycling journey helps raise awareness on environment protection
Sunday, 21:53, 04/10/2020
A friendship cycling journey for a green Hanoi city 2020 and relevant activities are underway from October 2-4 in streets around Hoan Kiem Lake, Hang Ngang, Hang Dao, and Dong Xuan market in the heart of the capital city as part of events to celebrate the 1010th anniversary of Thang Long-Hanoi (1010-2020).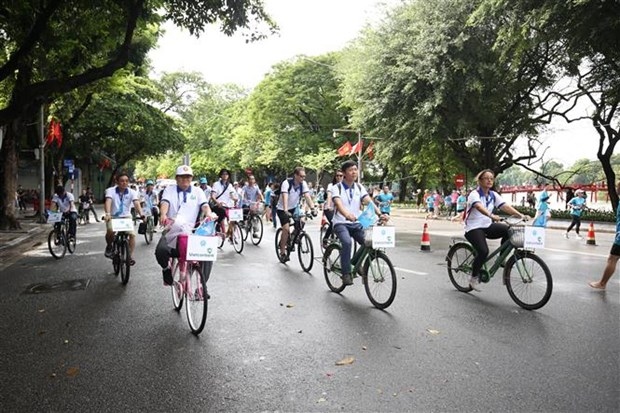 The programme attracts the participation of about 400 Vietnamese and international attendees, including over 270 foreigners from embassies and international organisations in Hanoi.

It contributes to promoting Hanoi's images as a peaceful and green city, while encouraging and supporting the use of bicycles as not only a normal means of transportation but also a beautiful behaviour which helps save energy and protect the environment.

Speaking at the event, President of the Vietnam Union of Friendship Unions (VUFO) Nguyen Phuong Nga affirmed that in recent years, the municipal authorities and people have always tried to build the city in accordance with the criteria of equality in the community, urban development, environmental protection, and promotion of cultural development.

The programme aims to raise public awareness of the importance of protecting the environment, and encourage the use of bicycles to contribute to minimising air pollution, she said.

Palestinian Ambassador to Vietnam Saadi Salama applauded the VUFO for its initiative to organise the event, saying that it contributes to raising people's awareness of environmental protection.

At the programme, organisers handed over bicycles as gifts to excellent students with difficulties circumstances in the city.