Hanoi capital applies two-week COVID-19 social distancing rules
Friday, 23:43, 23/07/2021
VOV.VN - Hanoi, the capital of Vietnam, will begin social distancing measures over 15 days, starting at 06.00am on July 24, in an attempt to slow the spread of the SARS-CoV-2 virus.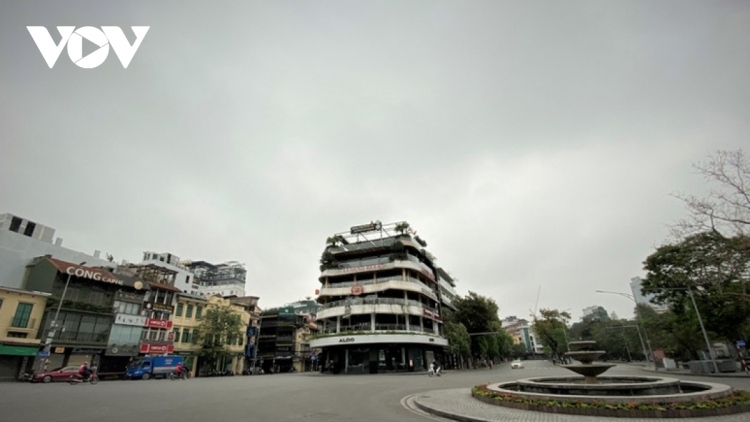 Hanoi mayor Chu Ngoc Anh signed a decision to enforce the order following an urgent meeting late on July 23.
The city has seen dozens of new coronavirus cases detected on a daily basis during the past few days. Many of them have been recorded through test screening at healthcare facilities in the locality.
Under the newly signed decision, all local resident are required to stay home and are only allowed to go out for food, other daily necessities and medical emergencies.
They are required to maintain a minimum distance of 2m and not gather more than 2 outside offices, schools, hospitals and in public places.
They are asked to make health declaration every day on website www.tokhaiyte.vn or via Ncovi and Bluezone applications. They are also asked to immediately contact local authorities and medical facilities when showing flu-like symptoms such as a fever, a cough, shortness of breath, or loss of appetite.  
All essential business services, workshops, and factories are allowed to operate, but they must ensure safety measures against the virus.
The municipal administration has also decided to suspend all unnecessary meetings and conferences, enhance supervision and strictly deal with law breakers.
Hanoi has recorded nearly 700 locally acquired cases since the resurgenceof the virus in the community in late April, except for approximately 200 positive cases documented at centrally-run hospitals.
Essential goods in abundant supply
The Hanoi Department of Industry and Trade confirmed on July 23 evening the city will provide an abundant supply of essential goods for local residents, even when there is a sudden rise in purchasing power.
According to the department, local enterprises have increased their stock of essential goods by 30%-50% within 3 months with a total value of about VND194 trillion.
In addition, the city has also maintained contact with neighbouring provinces and cities to ensure additional supply sources of essential goods and seasonal agricultural products for local consumption.
Currently, there are 459 wet markets, 28 trading centers, 123 supermarkets, 1,800 convenience stores, 2,382 selling points of price-stabilized goods, and tens of thousands of grocery stores in the city that are ready to meet local consumer demand.