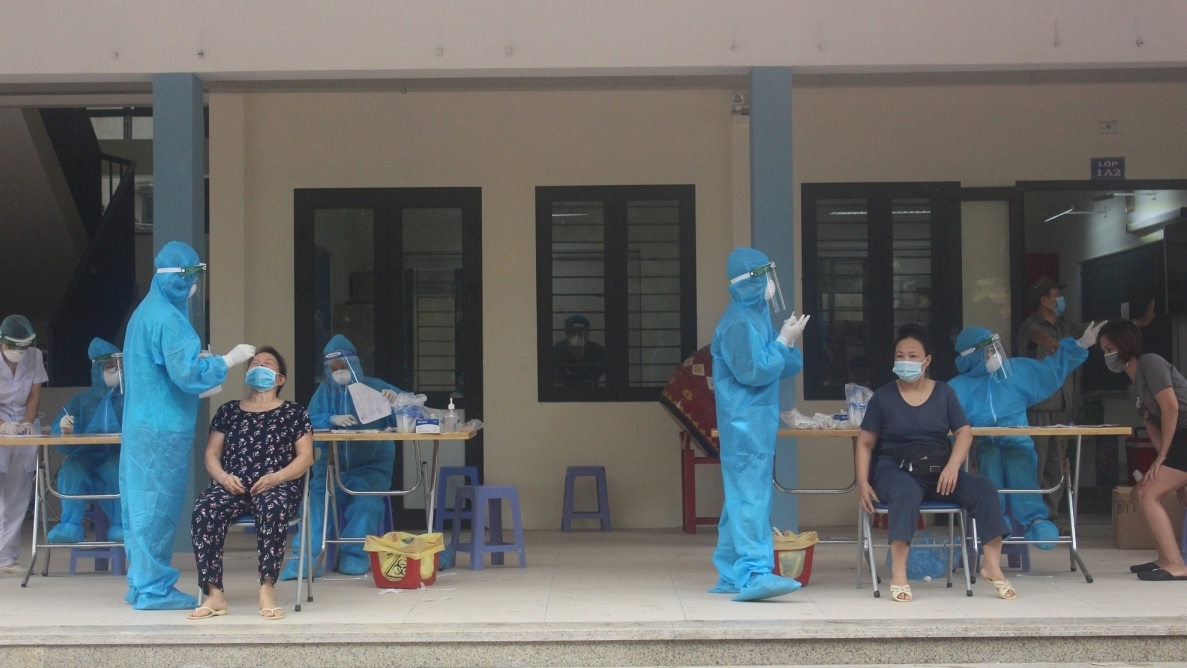 This comes after the Chairman of the Hanoi People's Committee on the evening of September 6 signed for the issuance of a dispatch to accelerate the control of the pandemic situation in the city as a means of boosting socio-economic development.
As a means of achieving this goal, Hanoi will classify different parts of the city into zones according to the level of risk, therefore taking appropriate measures for each part, with the aim to firmly protect COVID-19 free places, green zones, high-risk places, orange zones, and very high-risk places, red zones.
The city will also test 100% of people throughout the city in order to separate F0 cases from the wider community.
Due to the COVID-19 vaccination rate in Hanoi still being low, it's a necessity for people to strictly comply with preventive measures, particularly social distancing orders which are in place in high-risk areas.
The city is also stepping up COVID-19 testing starting from September 6, with people in locked-down areas or health quarantine areas in red zones to be tested every two or three days. Those who reside in orange zones will also be tested once every five to seven days.
Families living in green zones will have one or two members tested regularly as a means of protecting the zones from COVID-19.
The municipal administration has also suggested that the Government allow local authorities to decide the health quarantine period for people who are suspected of having SARS-CoV-2, known as F1 cases.

The city has therefore asked for more vaccines to be allocated by the middle of this month in order to increase its vaccination rate.

The municipal administration has also asked for the Health Ministry's detailed guidelines regarding travel, work, and participation in COVID-19 prevention and control for citizens who are fully vaccinated.
Hanoi is set to tighten the use of check travel permits from September 8. This will see a new form of travel permits using QR codes put into use on September 8, which will be required to go through checkpoints that separate very high-risk zone and other zones, orange and green, which have lower risk of COVID-19 infections.
After over 45 days of social distancing measures being in place, the number of new infections in the capital remains high, with approximately 50 local cases being recorded each days.
Since the start of the fourth pandemic wave in late April, Hanoi has reported the detection of more than 3,600 positive COVID-19 cases, of which 1,565 cases have been found among the community, with the rest being detected in isolation areas.