FM spokesperson on Zen Master Thich Nhat Hanh's passing
Sunday, 20:53, 23/01/2022
VOV.VN - The passing of Zen Master Thich Nhat Hanh is a loss to the Buddhist community in general and Vietnamese Buddhism in particular, said Foreign Ministry spokesperson Le Thi Thu Hang.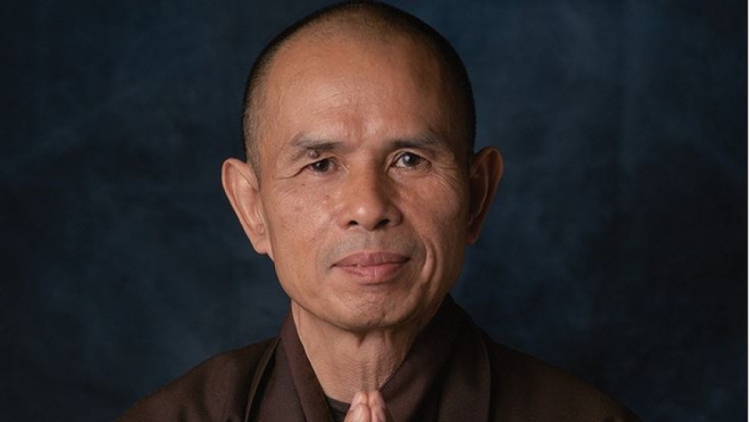 Hang was responding to a question raised by media workers concerning the recent passing of Zen Master Thich Nhat Hanh in Vietnam.
"On hearing about Zen Master Thich Nhat Hanh's passing, we would like to express our deepest condolences to the Buddhist sect, the Vietnamese Buddhist community at home and abroad, and the family of Zen Master Thich Nhat Hanh," said Hang.
According to the spokesperson, the Zen Master is a Vietnamese Buddhist monk who has lived abroad for many years, making contributions to the introduction and development of Buddhism as well as Vietnamese culture in the world.
Zen Master Thich Nhat Hanh, a global famous preacher, writer, poet, and social activist, passed away at Tu Hieu pagoda in the central province of Thua Thien-Hue on January 22 at the age of 96.
The dead body of the world renowned monk is being kept in a casket placed inside the pagoda for Buddhists to come and pay respect to him.
Buddhists began to mourn the late Zen Master on January 23.  
According to the obituary, the Zen Master's funeral will be held in the form of a silent Buddhist meditation retreat following his will, and it will last for seven days.
A cremation ceremony will be held on January 29. His relics will not be buried in stupas as normally seen, but be distributed to Tu Hieu pagoda and Plum Village monasteries around the world.