Female scientists receive Kovalevskaia Prize Award 2020
Friday, 18:09, 05/03/2021
VOV.VN - A group of female scientists from the Institute of Natural Product Chemistry Viet Nam Academy of Science and Technology (VAST) and Hanoi Medical University have been named as the winners of the Kovalevskaya Award 2020 after the event took place on March 5 in Hanoi.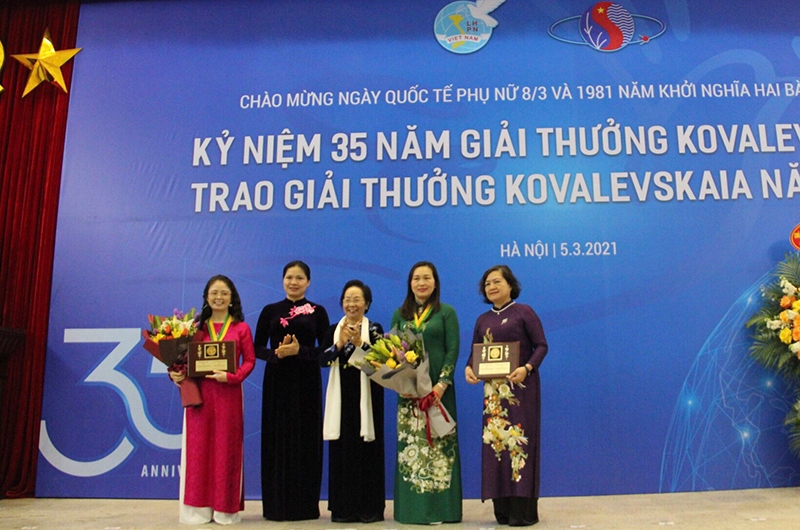 Upon addressing the ceremony, Ha Thi Nga, president of the Vietnam Women's Union, emphasised that this year's award ceremony was held with the aim of celebrating the 35th anniversary of the Kovalevskaya Award. In addition, the occasion serves to affirm the importance of female scientists in conducting research activities to make great contributions to the country.
Nga went on to stress that the Vietnam Women's Union has been fully aware of its role and responsibility in research activities that aim to improve the overall quality of the female workforce, especially in terms of high-quality female human resources.
Moving forward, the association plans to devise guidelines and policies which are both appropriate and effective in order to improve the overall quantity and quality of female intellectuals.
At the award ceremony,  former Vice President Nguyen Thi Doan expressed her hope that female scientists will seize upon opportunities to climb the social ladder through their research activities whilst greatly contributing to the country through participating in scientific research products.
This year's award has been presented to a group of scientists from the VAST, along with those from Hanoi Medical University, for their outstanding achievements in the field of scientific research, with their work in natural science research particularly notable.
The Kovalevskaia Award was named after the Russian mathematician Sofia Kovalevskaia and was first presented in the nation in 1986, becoming the first national award for female scientists in the process.
Over the past 35 years, the award has been presented to 20 different organisations and 49 individuals across various fields, such as mathematics, physics, chemistry, biology, agriculture, medicine, and information technology.