Exhibition showcases press materials on Buddhism
Wednesday, 12:01, 31/05/2023
More than 100 press photos and materials involved Buddhist events published between 1963 and now are on display at an exhibition opened in Ho Chi Minh City on May 30.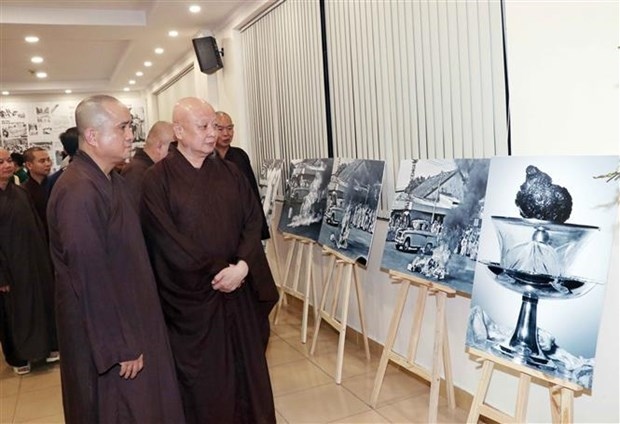 The event is co-organised by Giac Ngo – the official newspaper of the Vietnam Buddhist Sangha (VBS), the information-communications board of the VBS chapter in HCM City, and Hue Quang library, which collects, preserves, and distributes Buddhist texts and books on Buddhism. It is taking place at the Giac Ngo headquarters in District 3 until June 7.
 
The exhibited items shed light on the Buddhist campaign in 1963 requesting the US-backed South Vietnamese government of Ngo Dinh Diem to implement a policy for religious equality. There are about 30 original documents about the event on June 11, 1963 when Bodhisattva Thich Quang Duc set himself on fire to protest against the repression of Buddhists by the then government.

Addressing the opening ceremony, Most Venerable Thich Le Trang, head of the VBS Executive Board in Ho Chi Minh City, said the display gives clear insight into the hardship facing Vietnamese Buddhism in 1963 and the Thich Quang Duc event.
Most Venerable Thich Quang Duc was born as Lam Van Tuat in Van Ninh district, the south-central province of Khanh Hoa, in 1897. He actively joined Buddhist movements for religious freedom and equality in the southern region.
On June 11, 1963, when a procession of over 800 Buddhist monks, nuns and followers arrived at the intersection of Phan Dinh Phung boulevard (now Nguyen Dinh Chieu Street) and Le Van Duyet Street (now Cach Mang Thang Tam Street) in Sai Gon (now Ho Chi Minh City), Thich Quang Duc soaked himself in petrol, struck a match and set himself on fire. He was honoured as a Bodhisattva in 1964 after the unified VBS came into being.