Deputies emphasise need to prevent false information on goods, services
Friday, 18:41, 26/05/2023
National Assembly (NA) deputies stressed the need to supplement the responsibilities of relevant agencies in preventing and eliminating false information on products to protect consumers, as the legislature put the draft Law on Protection of Consumer Rights (amended) on table during its ongoing fifth plenary session on May 26.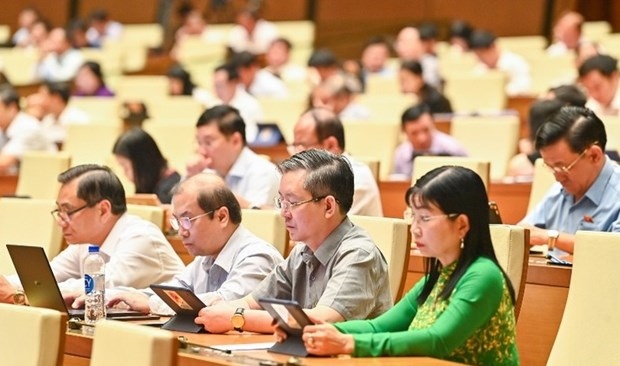 They pointed to many acts of using social media to popularise false and misleading information, and even counterfeit product brands to deceive consumers.

To Van Tam from Kon Tum province said that one of the important factors in protecting the rights and interests of consumers is that they have sufficient and accurate information about the quality of products and services.

However, amidst the siege of fake information, it is difficult for consumers to distinguish which products are good and authentic, leaving many to fall victim to false advertising, emphasised Tam.
Therefore, he proposed to supplement the responsibilities of the Ministry of Industry and Trade and relevant ministries and sectors, especially the Ministry of Information and Communications, in preventing and removing false information on social media by professional technical measures.

Sharing the same view, Huynh Thi Phuc from Ba Ria-Vung Tau province proposed adding regulations on the responsibilities of communications agencies in advertising and promoting goods and services.

Tran Thi Thu Phuoc of Kon Tum province stated that in order to protect consumers, the draft law clearly stipulates the responsibilities of organisations and individuals to provide transparent, accurate, and sufficient information about goods and services to consumers, as well as compensation and settlement measures for consumers when there is a problem.

However, in practice, consumers are routinely deceived, she stressed, adding that the draft law needs to specify criteria for assessing whether the conduct of organisations and individuals misrepresents products or services to consumers, based on consumer cognitive ability and identification.

Appreciating deputies' ideas, Chairman of the NA Committee on Science, Technology and Environment Le Quang Huy said that the agency will work with the drafting agency to fully acquire and clarify these contents before submitting this draft law to the NA for approval.