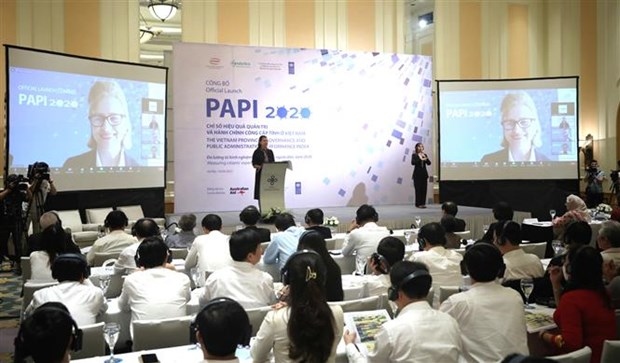 Addressing the event, Caitlin Wiesen, resident representative of the UNDP in Vietnam, revealed that the PAPI 2020 Report highlights the local Government's significant achievements in terms of governance and public administration performance during the 2011-2016 and 2016-2021 terms.
The report which was released following the start of a new government, provides extensive data on citizens' experience in interacting with various Government apparatus across all levels in 63 provinces and cities.
It indicates that the participation of citizens and anti-corruption efforts have a positive correlation with the containment efforts enforced to halt the spread of the novel coronavirus (COVID-19) pandemic.
Australian Ambassador to Vietnam Robyn Mudie also highlighted various improvements made in the PAPI report which have contributed to helping the country successfully halt the spread of the COVID-19 pandemic. The Australian diplomat added that through competent public governance, Vietnam will be capable of responding effectively to other unexpected emergency situations.
The report also shows various areas of concern for women, including poverty alleviation, health care, and education, adding that women are less frequently involved in decision-making processes in localities, and they often have a limited access to the internet and e-government services.
In addition, the report also highlights citizens' assessment concerning the efficiency of governance and public administration performance by authorities across all levels.
Most notably, there have been major improvements made in terms of combating corruption activities and accountability towards citizens since 2016, it notes.
Nguyen Huu Dung, vice president of the Vietnam Fatherland Front (VFF) Central Committee, expressed his wish that the PAPI report will continue to provide necessary and reliable data regarding the efficiency of governance, state management, and public service delivery by all-level administrations, whilst contributing to policy reform.
This year saw more than 14,700 people interviewed for the PAPI 2020 Report, representing the largest number of respondents since the first such national survey was conducted back in 2011.