Conference of young MPs helps promote Vietnam's image
Monday, 12:54, 18/09/2023
Participants to the 9th Global Conference of Young Parliamentarians, taking place in Hanoi on September 14-17, have been impressed by the host's hospitality, robust development as well as meticulous preparation for the event.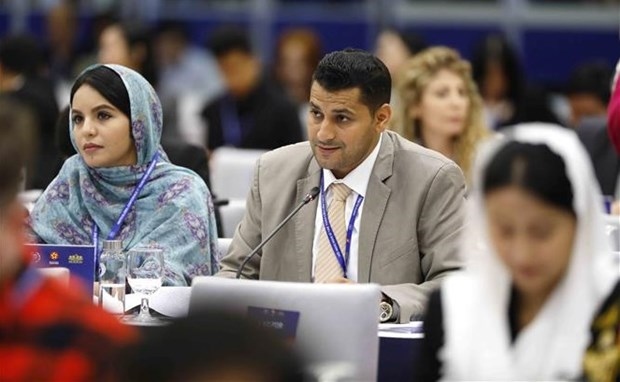 Nigerian Senator Asuquoe Ekpenyong said he is dazzled by Vietnam's cultural straits together with its rich history of 4,000 years, which bear a lot of similarities with those Nigeria.

Vietnam is a modern country with dynamic development, the Nigerian Senator, who came to Vietnam for the first time, said.

Highlighting the host's sound organisation of the event, Member of the Chamber of Deputies of Romania Ana Catauta said she was eager to attend such an important event, with a number of issues tabled for discussion, including measures to make digital technology become a tool that helps the youth prepare their future.

Meanwhile, member of the House of Representative of Indonesia Gilang Dhielafaraez S.H. said he is impressed by Vietnam's thorough preparation for the young parliamentary conference which was organised under the theme of "The Role of Young People in Promoting the Realisation of Sustainable Development Goals via Digital Transformation and Innovation".

Regional countries such as Indonesia, Malaysia, Singapore, Thailand and Vietnam are working together to promote innovation, he said, expressing his hope that Vietnam will have an increasing role to play in the field, making contributions to develop ASEAN into a stronger community.

Returning to Vietnam after ten years, Member of the House of Representatives of Malaysia Mohd Shahar Bin Abdullah, said the country will see more resounding growth in the next decade, especially Hanoi and Ho Chi Minh City.

He added that he wants to enhance connectivity with young parliamentarians in Vietnam as well as many other countries, who play an important role to shape up their countries' future.

The 9th Global Conference of Young Parliamentarians, which brought together 500 young parliamentarians, is an opportunity for Vietnam to popularise its historical tradition, cultural values, effective diplomatic policy, as well as achievements of the socio-economic development, thus promoting its position and prestige in the international arena.