Cho Ray Hospital conducts over 1,100 kidney transplants
Thursday, 19:01, 16/03/2023
VOV.VN - 30 years on since the first kidney transplants were performed in 1992, Cho Ray Hospital has so far successfully conducted a total of 1,127 cases, helping to improve the lives of thousands of people.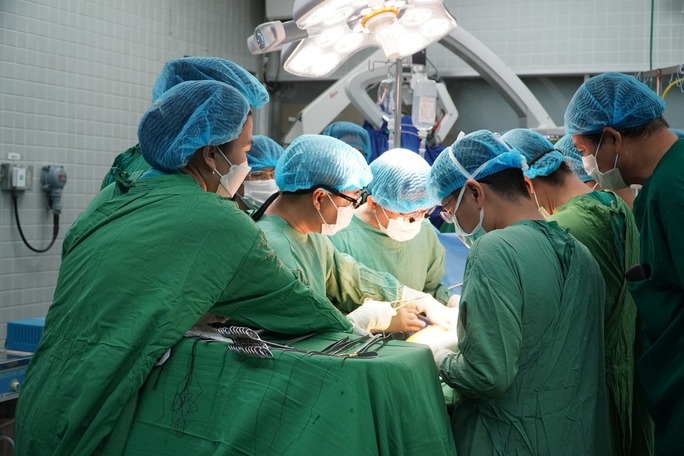 Le Duc H, is thought to be the longest-surviving transplant patient in Vietnam. In 1997 he suffered from end-stage kidney failure before successfully undergoing a transplant at Cho Ray Hospital thanks to a kidney donated by his relatives. H is currently living and working as a doctor in Lam Dong province in the Central Highlands and enjoys stable health.
To master transplant techniques, Cho Ray Hospital has sent doctors and surgeons to leading hospitals abroad in order to learn about ABO-incompatible kidney transplants, according to Nguyen Tri Thuc, director of the hospital.
Last year, the hospital successfully conducted the country's first ABO-incompatible living-donor kidney transplant. Accordingly, a 51-year-old women of Ben Tre province in the Mekong Delta volunteered to donate one of her kidneys to her 54-year-old husband who had end-stage renal disease and had been on dialysis for over a year. Despite their different blood types, the surgery was successfully conducted in late December, and the couple are now in a stable condition.
Kidney transplantation between recipients and donors of incompatible blood types has been performed in several countries, and such a successful case in Vietnam shows local doctors have acquired the techniques and it also opens up plenty of opportunities for kidney patients to live longer, said Thuc.
Deputy Minister of Health Tran Van Thuan shared that each year, across the world more than 40,000 lives are saved through organ donation, with about 460,000 people living off one or more body parts that come from others.
He recalled that though the first transplant surgery in the world took place in 1954, Vietnam's organ transplant history began with a kidney transplant on June 4, 1992, at Military Hospital 103. Since then Vietnam has made significant improvements in transplant techniques, with kidney transplants receiving international acclaims.  
Vietnam has now mastered the most important and common organ transplant techniques, successfully performing more than 1,500 cases of kidney, heart, liver, pancreas, and lung transplants.
However, locally there is a severe shortage of deceased donors. The demand for organs continues to exceed supply, meaning that many people waiting for such a transplant die every day.
Deputy Minister Thuan stressed that donating tissues and organs to people suffering from organ failure is a priceless gift. Organ donation is not only a humanitarian act, but also helps to prolong the life of the people who are in need, he concluded.