Ceremony held for first time to honour wildlife conservators
Friday, 09:35, 14/01/2022
A ceremony was held on January 13 to honour 21 organisations and individuals with outstanding contributions to wildlife conservation in Vietnam during the 2010 – 2020 period.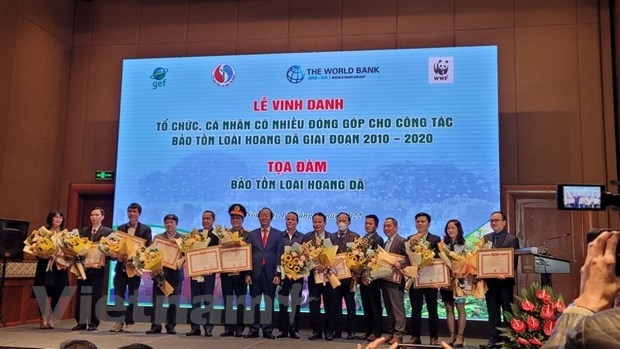 The event, the first of its kind, was co-organised by the Ministry of Natural Resources and Environment, the World Bank in Vietnam, and the World Wide Fund for Nature in Vietnam (WWF-Vietnam).

In his remarks, Deputy Minister of Natural Resources and Environment Vo Tuan Nhan said the event aimed to acknowledge conservation initiatives and solutions and encourage further contributions to the protection of bio diversity in the time to come.

On behalf of the eight honoured organisations, Prof. Dr. Nguyen Quang Truong from the Institute of Ecology and Biological Resources, said it is the first honour programme dedicated to wildlife conservation.

He considered it an occasion for the society to think about the works of scientists and conservators in the field.

Over the past decade, Truong's institute had detected more than 600 new species in Vietnam.

Representing 13 individuals honourees, Nguyen Van Thai, Director of Save Vietnam's Wildlife (SVW), said the award will inspire Vietnamese people so that each person will contribute a little to make a big change for the country, creating a more livable environment, safe forests, and protected wildlife.

Also among these individuals, Vo Manh Hung, a reporter from the Vietnam News Agency's online newspaper VietnamPlus, said he is honoured and encouraged to work harder in the journey ahead. Hung has accompanied forest rangers and competent agencies in rescuing thousands of wild animals across the nation over the past years.

According to the department of nature conservation and biodiversity under the Ministry of Natural Resources and Environment, about 51,400 species have so far been detected in Vietnam.