BA GPS offers free AI technology to help passenger transport vehicles in COVID-19 control
Thursday, 20:16, 30/09/2021
The Binh Anh Electronic Development Co. Ltd. (BA GPS) is ready to support 120,000 transport vehicles in COVID-19 prevention and control using artificial intelligence (AI), said Pham Thai Hoa, director of the firm.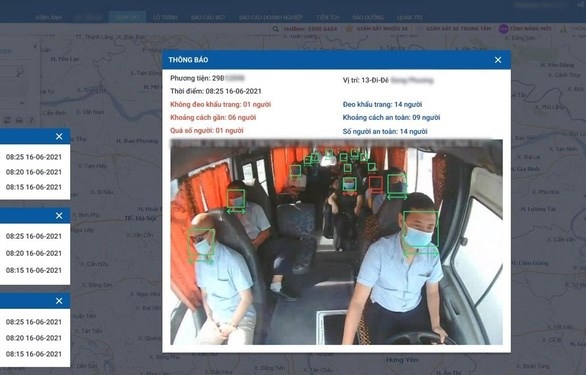 Hoa said that BA GPS has proposed the support to the Government and the Vietnam Automobile Transportation Association, adding that it is willing to provide the technology service to camera suppliers without profit, so that data on the vehicles will be connected to the current vehicle management software of the transport companies without any further cost.

With AI technology, the BA GPS has provided free "safe travel" app to a number of transport companies, which will give alerts when passengers or drivers or staff do not wear face masks or the distance among passengers does not meet safety requirements. The alerts will be automatically sent to the transport company managing the vehicles as well as drivers and the driver's assistant.

In late 2021, about 120,000 passenger transport vehicles are expected to install cameras to serve transport management and pandemic control activities.

Since June this year, the BA GPS has supplied AI technology on face mask warning to nearly 1,000 passenger transport vehicles, reducing the ratio of passengers failing to wear masks properly to 6%-7% from 23%.

According to the Vietnam Automobile Transportation Association, the AI technology application has helped to reduce 80%-90% in the ratio of people not wearing masks on vehicles.

On September 28, the association sent a document to all transport companies asking them to apply AI technology on pandemic prevention and control activities.