Vietnam urges enhanced awareness, enforcement of UNCLOS
Thursday, 09:39, 09/12/2021
Vietnam called for promoting the awareness and enforcement of the United Nations Convention on the Law of the Sea (UNCLOS) while attending a plenary meeting at the UN General Assembly's 76th session on December 7.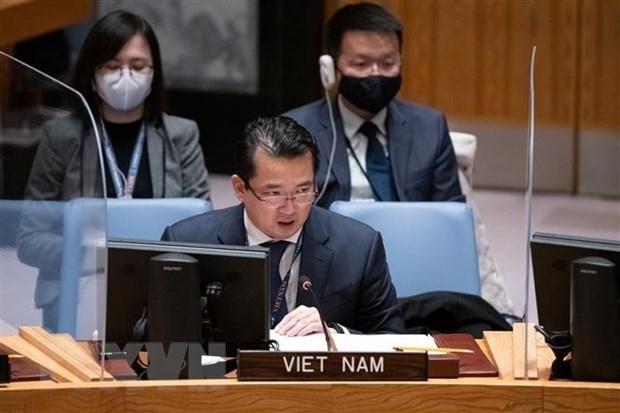 Addressing the meeting on oceans and the law of the sea, Ambassador Pham Hai Anh, Chargé d'affaires a.i. of Vietnam in the UN, said the country supports the universality, consistency, and comprehensiveness of the UNCLOS and highly values contributions by the agencies established under this convention to promoting the legal order at sea.

To further enhance the awareness and enforcement of the UNCLOS, he called on countries to continue taking part in the Group of Friends on the UNCLOS, founded by Vietnam and Germany, which now has a membership of 112.

Regarding the recent complex developments in the East Sea, the diplomat affirmed Vietnam's consistent stance that all disputes must be resolved by peaceful means, with respect for international law, including UNCLOS, and diplomatic and legal processes, and without use of or threat to use force.

Anh appealed to all the parties concerned to exercise self-restraint; not militarise or conduct activities that may complicate the situation, increase disputes, affect the safety and security of navigation and overflight in the East Sea, or jeopardise peace and security in the region; and fully implement the Declaration on the Conduct of Parties in the East Dea (DOC) and soon finalise a substantive and efficient code of conduct (COC) that matches international law, especially UNCLOS.

At this meeting, nearly 50 nations and groups of countries highlighted the universality, consistency, and comprehensiveness of the UNCLOS, which is the international legal framework regulating all activities on seas and oceans and reflecting the principles of customary international law, and thus binding upon all countries, even those that are not a party to UNCLOS.

Many countries also talked about the basic rights of seafarers, marine plastic pollution, and challenges posed by climate change.

In terms of the East Sea issue, the US, Germany, Japan, Australia, and the Philippines voiced concerns over the territorial claims or sea areas that are too large and illegal in the East Sea, as well as incidents and actions impeding countries' normal oil exploitation activities.

They underlined the demand for guaranteeing the freedom of navigation in the East Sea, and that relevant sides have the obligation to peaceful resolve international disputes in line with UNCLOS, ensure that their countries' internal regulations and policies must accord with UNCLOS, and respect the ruling on the East Sea issue made by the Permanent Court of Arbitration, based in The Hague, in 2016.